Ever wanted to cook up a big prime rib roast but have been scared away by the big price tag? I've got the perfect roast for you that when smoked perfectly is simply amazing! I present to you the New York strip roast. Yes, this is the same cut as the new york strip steak but even bigger! This cut was priced at $5.99 lb making it a bargain for your holiday or even Sunday night feast!
How to Smoke A New York Strip Roast
You guys, this recipe can't get any easier. Do you have a smoker? Do you have salt, pepper, and garlic? A sharp knife? You're already 95% there!
The first step to making this wonderful roast is removing the meat from the package. Give the entire roast a layer of extra virgin olive oil and rub your favorite steak rub all over. Don't have a favorite steak rub? Mix together salt, pepper and garlic powder as a fail-safe seasoning mix. When you think you have enough seasoning, add just a bit more. Unlike a steak, the seasoning will only be on the outside of this roast so we want it extra heavy so you taste the seasoning with each bite you take.
Prepping Your Smoker And Cook Time
This is the best part of this entire recipe. Warm-up your smoker to 250 degrees (I did it while seasoning the roast) and plop the roast inside. It's only going to take about an hour for this roast to hit 120 degrees.
Your cook time will be dependent on the size of the strip roast you are cooking. My roast was shy of 3 lbs so it cooked quickly, about one-hour despite the low 225 temperature. I highly recommend you pick up a temperature probe or meat sensor. When you're smoking meat you always cook to the finished temperature, not an exact time. I use the iGrill mini which syncs directly to my phone. This makes this smoke as hands-free as possible. The next time you open your smoker you'll be taking the roast off to let rest.
Letting Your Strip Roast Rest
I mentioned above that we're cooking to roughly 120 degrees. My ultimate goal was to get this roast to 125 degrees but knew that resting the meat would allow it to soak up all that amazing juice while also continuing to cook an additional ~5 degrees.
When I rest my meat, I wrap it in foil. I then take the foiled roast and wrap it within a towel and place it in a cooler. This roast rested for about 30 minutes but you can easily leave it for an hour without it impacting anything. Once your ready to eat, remove the roast from the cooler, unwrap and cut into this thing of beauty. Enjoy!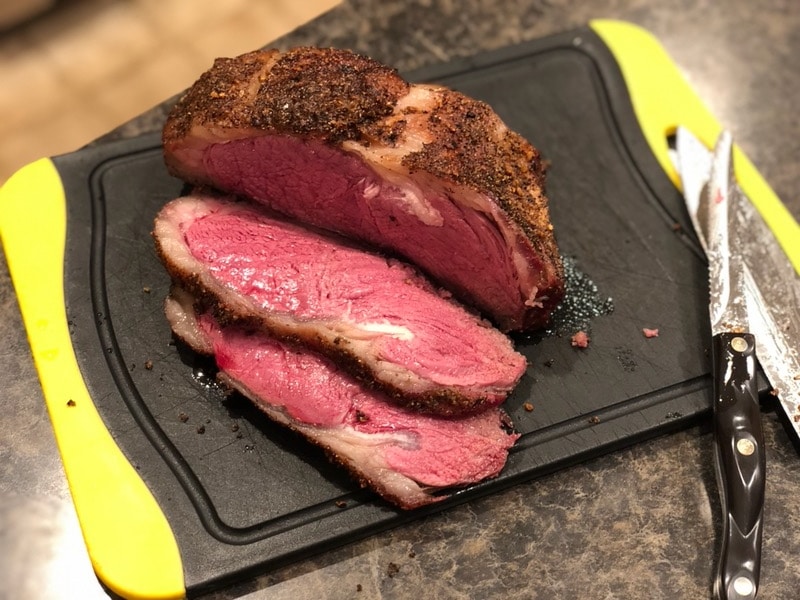 Enjoy this recipe? Consider supporting this website
Buy your bbq pellets via this amazon link and you'll support the site at no additional cost to you.
Traeger Smoked NY Strip Loin Roast
100% tastiness for 30% less than what your average prime rib would cost.
2
hrs