I'm a huge fan of Sunday family dinners. I'm not, however, a big fan of having to break the bank in order to make these meals happen. Recently while shopping at Cub Foods I saw this 2.5 lb bottom round roast marked down for under $13.00. I knew it would be a great smoker project. I was right!
For those not familiar with this cut of meat, it's extremely lean. You might think that this would be a great thing but it ends up making the beef very tough to eat. Many people like this cut for cooking low and slow or slicing incredibly thin for sandwiches. Consider this a 2-in-1 recipe as when you're done eating this up for your dinner the leftovers doubles up as truly amazing sandwich meat.
How to Smoke A Beef Bottom Round Roast
To get the most from this piece of meat you'll want to brine it. Below, I'll show you how to do a super simple dry brine. I let this roast brine for 4 hours but typically, the longer you let it brine, the better the outcome would be.
Dry brining your beef roast
Remove the beef roast from its original package and give it a good sprinkling of coarse salt and pepper.
Add the roast to a gallon zip lock bag and place it back in your refrigerator for 4-10 hours. The salt will draw out moisture, mix with the salt and reabsorb into the beef. This step helps make this cut of beef a bit less tough.
Traeger Smoking a Beef Roast
Preheat your Traeger (or any pellet smoker) to 250 degrees.
While the pellet smoker heats up, remove the roast from the plastic bag.
Take a knife and insert it 4-5 times in the roast halfway through. Insert your cloves of garlic into these wholes.
Add a final layer of course black pepper to the fat cap.
insert your digital thermometer into the middle of the roast.
Add roast to the pellet grill and roast for 4 hours or until 130 degrees (if aiming for medium-rare at the end.)
After removing the roast, wrap it tightly in foil and then a towel. This will allow the beef to finish cooking its final few degrees and reabsorb the juices into the meat.
Slice the roast against the grain in thin slices.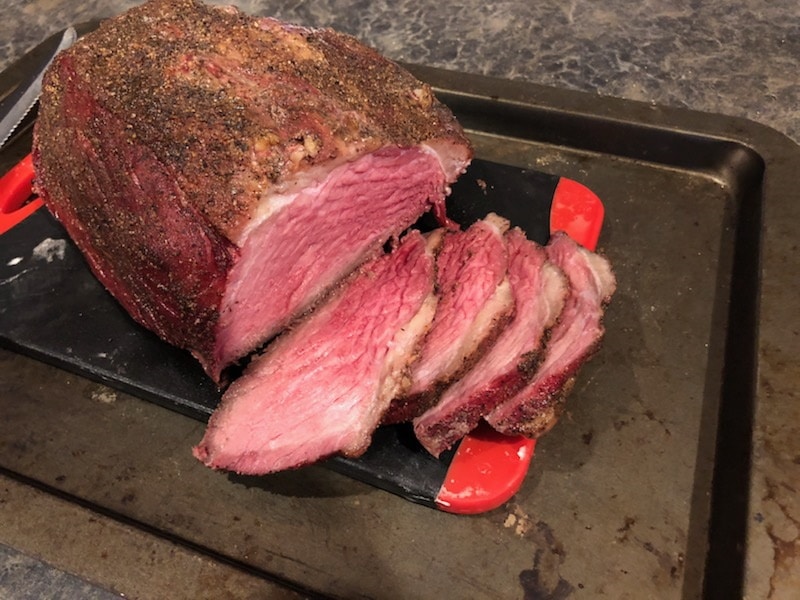 Enjoy this recipe? Consider supporting this website
Buy your bbq pellets via this amazon link and you'll support the site at no additional cost to you.
Traeger Smoked Bottom Round Roast Beef
A lean beef roast that when smoked low and slow can make an amazing dinner (plus sandwich leftovers!)
8
hrs
50
mins