Beef tenderloin is a prized possession in this family. When this loin is sliced it is referred to as filet magnon. This cut of beef is so tender that in most instances you don't even need a knife to cut it. So what makes this piece of meat even better than grilling it on your BBQ? Smoking it. Today I walk you through how to prepare and cook this 8th wonder of the world.
Ingredients Needed For Smoking A Beef Tenderloin
Beef tenderloin is expensive. A fully trimmed tenderloin can cost as much as $25.00 per pound. My local butcher had a sale for untrimmed full tenderloin for $5.99 a pound. This recipe uses half of a 5 pound beef tenderloin but you can easily cook an entire tenderloin with modified directions below.
2.5-lb beef tenderloin
5 tbsp of your favorite steak seasoning (for this recipe I used garlic salt and fresh cracked pepper)
1 roll of butchers twine
Preparing Your Beef Tenderloin
You will save a considerable amount of money if you buy a beef tenderloin untrimmed. What this means is that we will have to remove the silver skin that you see in the image above. It's a pain in the butt but not difficult. Simply take a sharp knife and cut under the silver skin. Once you have enough cut to get your fingers under it you can typically just pull it off. If you're lucky you'll get it in one attempt. If you're like me it might take three or four passes. If you do not remove the silver skin it will make the meat much chewier than what you would expect from a prized filet.
The other item we need to deal with is the tail end of the beef tenderloin. Since we have an untrimmed tenderloin, you'll notice that one end tapers off. If you cook it this way one end of the tenderloin will be extremely overcooked. If you have friends or family that like well-done beef its something to consider. Alternatively,  you can use butcher twine to fold the tail under the end of the roast making it easier to cook evenly.
Fire up your smoker to 225 degrees.
Beef tenderloin is a very lean piece of meat. It only took mine ~50 minutes to reach 135 degrees. Since this is a fairly expensive piece of meat you don't want to cook this by time. Use a thermal pen or a temperature probe. I use the iGrill mini which connects directly to my iPhone. I get an alert as my meat reaches the desired temperature. For many, 135 is a perfect rare temperature but my extended family likes their beef cooked just a little more. So I'm aiming for 145 degrees F and will finish this roast on a hot grill. You can also use your pellet smoker by turning the temperature up to maximum heat.
Reverse Searing and Resting Your Beef Tenderloin
As mentioned previously, I brought the temperature of this beef tenderloin from 135 to 145 by adding a reverse sear from my propane grill. This took about 2-3 minutes per side. Be careful as your meat temperature will rise quickly. The purpose of the reverse sear vs leaving it in the smoker is to get the crisper outside which everyone seems to enjoy. When your done, remove the tenderloin from the grill (or smoker if you used it to sear) and let the beef rest for 15 minutes. You can then cut and serve this beautiful piece of meat to your family and or friends. Enjoy!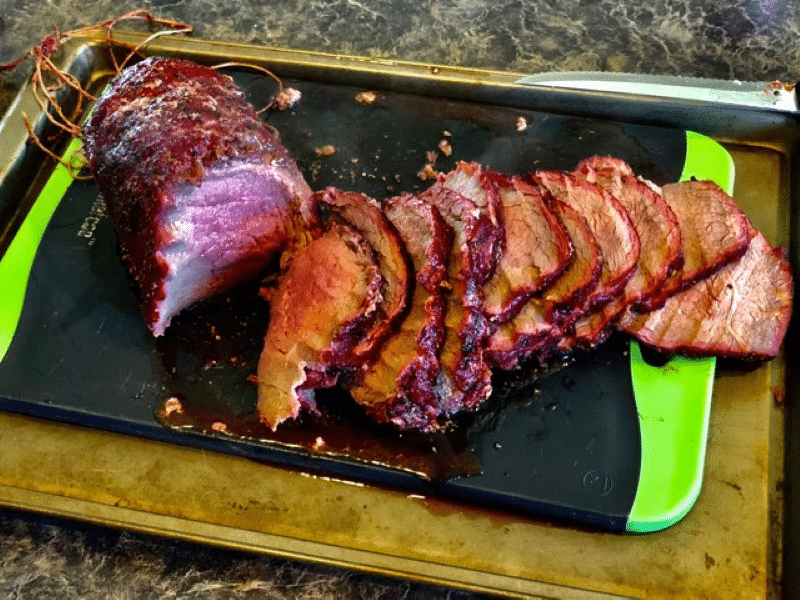 Enjoy this recipe? Consider supporting this website
Buy your bbq pellets via this amazon link and you'll support the site at no additional cost to you.
Traeger Smoked Beef Tenderloin
If you enjoy filet magnon then cooking up a beef tenderloin should be at the top of your list. This recipe maximizes the amazing beefy taste that only a tenderloin can offer.
1
hr
30
mins