Every Saturday morning I do the grocery shopping for the family. Typically I rotate bringing one of my three kiddos to turn a painful task into an opportunity to have some special 1:1 time. While the kiddo might rotate, running to the deli to get our sliced turkey for sandwiches never changes. That is until today. I'm excited to share with you this smoked turkey breast recipe that makes for a great meal on its own but also makes killer sandwich meat. If you love this recipe make sure to check out the smoked whole turkey recipe for your holidays!
Ingredients Needed For Smoking a Turkey Breast
This recipe is insanely easy. Buy a turkey breast, rub it with some salt and pepper and smoke until it hits temperature.
2-pound boneless and skinless turkey breast
1 TBSP Salt
3 TBSP black pepper
Meet netting
How to Smoke A Turkey Breast
My boneless turkey breast already came with a meat net but if yours did not, you can skip the first step of removing the netting from the turkey breast. Do NOT cut the net as we'll be re-using the net after we finish up the seasoning.
Once your turkey breast has been removed, lay it flat and liberally season it with salt and pepper. I really like pepper turkey for my sandwiches so I doubled the amount of pepper I used in this recipe.
Once you are done seasoning the breast, roll it back into shape and wrap with meat net.  You can then add additional salt and pepper to the exterior to add even more flavor.
Preheat Your Smoker to 250 Degrees F.
My turkey breast was on the smaller side (2 lbs) so I planned on roughly 3 hours to get it to the required 165 temperature.  Please make sure you use a temperature probe (I'm a big fan of the iGrill) to monitor my smokes. If you are smoking a larger breast plan on an additional ~30 min per pound.
Slicing Your Turkey Breast
I don't have a meat slicer though it's been on the "wish list" for a while. Fortunately, my preference for Sandwich meat is to always error on the side of thicker slices. After removing the meat net (it's OK to slice it off now) I started slicing some quarter-inch slices. You'll notice that since we seasoned the full breast and rolled it back up that you'll see the pepper on the inside of each slice. This recipe is fantastic for sandwiches but doubles as a great meat and potatoes dinner as well. Enjoy!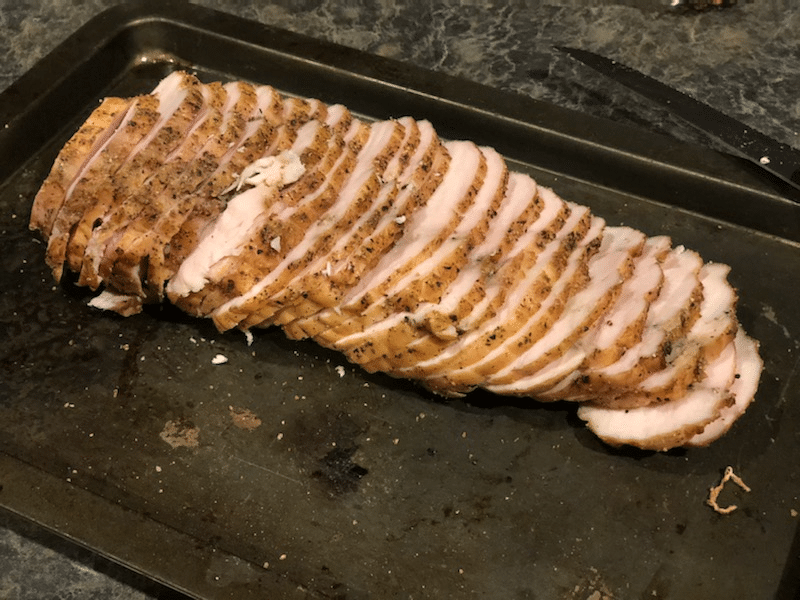 Enjoy this recipe? Consider supporting this website
Buy your bbq pellets via this amazon link and you'll support the site at no additional cost to you.
Traeger Smoked Boneless Turkey Breast
This pellet smoked turkey breast is phenomenal for sandwiches but are equally as good for a "meat and potatoes" dinner.