I can't even contain my excitement in sharing this recipe with all of you. The Tomahawk ribeye steak is by far the most ridiculous (amazing) cut of beef available. If you aren't aware, the tomahawk ribeye differs from a traditional ribeye steak as it has the full rib attached to the steak. Move-over t-bone and porterhouse steaks, we have a new king cut of beef!
Ingredients Needed For Smoking A Tomahawk Ribeye
1 2+ pound tomahawk ribeye steak
3 tbsp of your favorite steak seasoning blend (or Salt/Pepper to taste)
Preparing Your Tomahawk Ribeye
I didn't do anything special for this smoke. I wanted to keep it nice and simple. As you'll see below, I simply put a good amount of Montreal steak seasoning on both sides. This ribeye was so thick that I used my iGrill mini probe to ensure I didn't under/overcook it.
What Temperature To Smoke A Tomahawk Steak?
I cooked this behemoth of a steak at 275 degrees. To get to 125 degrees it took about 1-hour. When smoking your steak the beef will always come out a little bit of a grey color. You can turn up your smoker to maximum heat to get a proper sear but I find it much easier to just finish the steak up on my propane grill – it simply gets hotter quicker.  Ensure that you leave your prob in as your steak will rise in temperature quickly and you want to make sure you don't overcook it.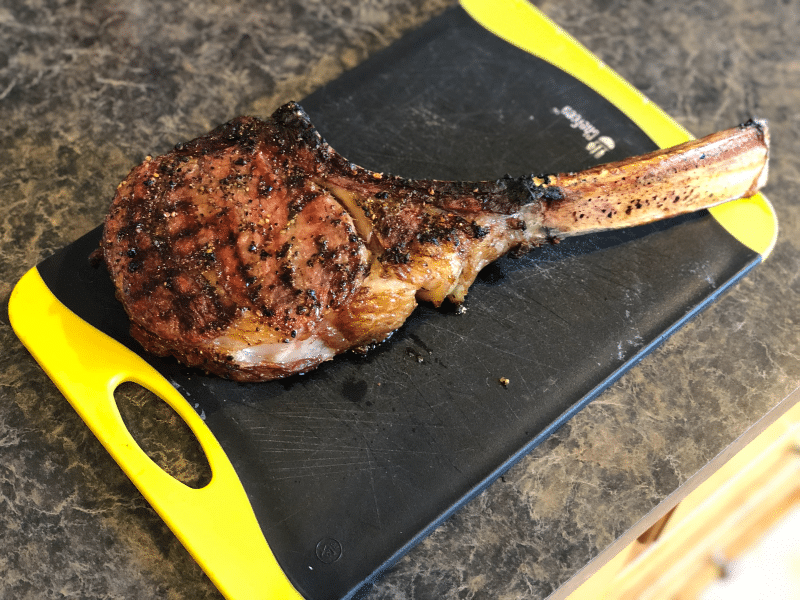 When you pull this massive steak off the smoker/grill make sure you give it a few minutes to rest. At that point, you can cut it into strips and serve. Our entire family ate off of this and the dog even enjoyed the bone at the end. Win-Win for the entire family.
Enjoy this recipe? Consider supporting this website
Buy your bbq pellets via this amazon link and you'll support the site at no additional cost to you.
Traeger Smoked Tomahawk Ribeye Steak
This behemoth of a steak will not only feed a full family but will be the center of conversation for days to come.