Have you ever had issues with your smoked whole chicken where your dark meat was overcooked at the expense of making sure the white meat was properly cooked? Spatchcock chicken might be your solution. It might look daunting at first but I promise this recipe is super easy.
Ingredients Needed For Smoking A Spatchcock Chicken
1 4-5 pound whole chicken
5 tbsp of your favorite BBQ seasoning blend
2 tbsp olive oil
Preparing Your Spatchcock Chicken
Many think preparing a spatchcock chicken is difficult. In reality, all you need to do is cut out the spine of the chicken and make one small cut into the breast bone. You'll notice that I used normal scissors but it will go even easier if you have kitchen shears. Identify the neck of the bird and cut all the way on the side of the spine to the bottom. Afterward, make the same cut on the other side of the spine. Lay the bird on its back. The next step will be cutting through the breast bone.
As the bird sits, you'll notice it's not completely flat. This is due to the breastbone. Take a sharp knife and press the point against the breast bone. Push down until you cut through this. At that point, you'll be able to further spread the breasts to allow it to lay completely flat.
After you remove the spine and split the breasts, you'll want to rub the entire chicken with a base of olive oil. Then proceed to season both the inside and outside of the bird with your favorite BBQ rub.
What Temperature To Smoke Spatchcock Chicken?
I recommend setting your smoker to 300 degrees. This will still allow for plenty of smoke but also allow you to get a crunchier outside skin.  Since you spatchcocked the chicken I also recommend placing the bird meat side down. You'll notice the biggest benefit of spatchcock chicken is the fact that all the meat on the bird will cook really evenly. No more worrying about overcooked thighs/legs in order to get the breasts to temp.
Speaking of hitting that "done temp". We're looking for 165 in all portions of the chicken. For this smoke, it only took 1 hour and 45 minutes. However, I highly recommend that you use an internal probe to monitor the temperature of the meat. With all smoking recipes, we are not cooking by time but the final temperature.
Once the chicken has reached 165 degrees, remove it from the smoker, cut it up and enjoy!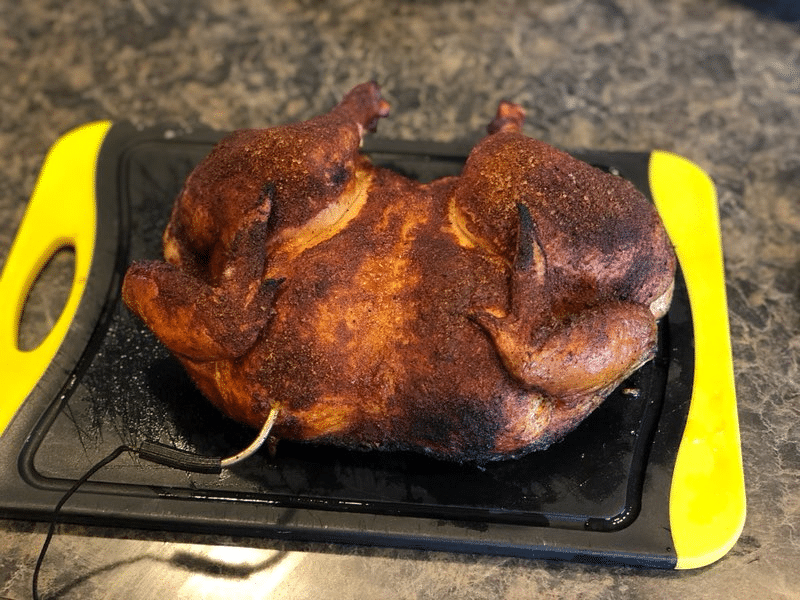 Enjoy this recipe? Consider supporting this website
Buy your bbq pellets via this amazon link and you'll support the site at no additional cost to you.
Traeger Smoked BBQ Spatchcock Chicken
Never worry about uneven cooked chicken again. Spatchcock chicken is easy and exceptionally delicious.