By now you've likely seen my BBQ pulled pork recipe. While you can't mess with this smoking staple, this pulled beef recipe blows it out of the water. It's one of my absolute favorite meals. The best part is that this recipe leverages a fairly cheap piece of beef which makes this not only budget-friendly smoke but will also solidify you and the king/queen of smoking of your household.  Let's just right it.
Ingredients Needed For Making Pulled Beef
Nothing complicated with this recipe. Get yourself a big chuck roast (the one pictured is just above 3lbs) and some of your favorite steak rub.
1 3-pound beef chuck roast
1 cup of your choice of steak/beef rub
2 TBSP olive oil
1 foil pan for easy cook/cleanup
How to Smoke A Beef Chuck Roast
I love recipes that are easy to make and this one stays true to the term "easy". Remove your chuck roast from the package and give it a quick rinse underwater. Pat it dry and place it in your aluminum foil pan. Drizzle your olive oil on the meat and cover it liberally with your favorite steak or beef seasoning. Once you are done, you'll have something looking like this.
Preheat Your Smoker to 225 Degrees F.
Similar to the pulled pork recipe, we want to cook this roast low and slow. Pre-heat your smoker to 225 degrees and make sure your roast is ready for a nice long smoke. This beef chuck roast took 8 hours to reach the magic 200-degree number. Depending on the size of your roast it might take a little longer (or shorter). Per most of my smokes, I highly recommend that you use an internal meat temperature probe. I've had a lot of success using the iGrill as seen in the image above. Once your magic is complete, you'll have an amazing roast that's ready to be easily shredded.
Shredding The Beef Chuck Roast
Anytime I smoke meat with the goal of shredding, I let it rest for a minimum of one hour. Once the roast was removed from the smoker, I wrapped it in foil and let it sit. This process is key as the meat will reabsorb any juices and makes it not only easier to shred but the meat will be much juicier as well. Once you're ready to start shredding, grab your favorite gloves, meat claws or even two forks. You'll notice that this meat will simply fall apart. You now have some amazing pulled beef great for sandwiches, nachos, or the main dish to your plated meal. Enjoy!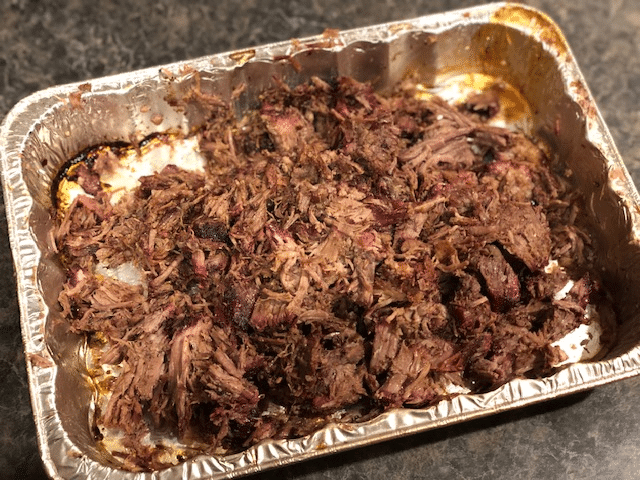 Get FREE Smoker Recipes Sent Directly To Your Email
Get This Recipe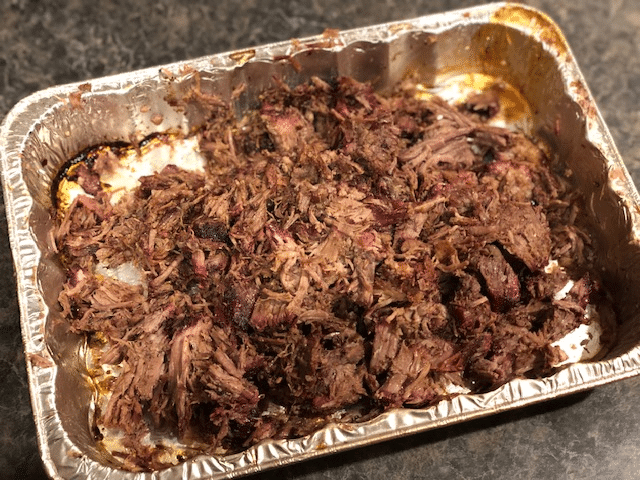 Traeger Smoked Pulled Chuck Beef Roast
Do you love pulled pork? This pulled beef recipe is going to blow your mind.
Print
Pin
Rate
Equipment
Smoker

Foil pan (optional)
Ingredients
1

3lb

Beef Chuck Roast

2

tbsp

Olive Oil

1

cup

Your Choice Steak/Beef Rub
Instructions
Rinse chuck roast under water and pat dry.

Rub olive oil over beef and apply steak/beef rub of choice.

Pre-heat smoker to 225 degrees F.

Insert meat thermometer and smoke uncovered for 8 hours or until 200 degrees F.

Let rest for 1 or more hours.

Shred beef with hands, claws, or two forks.