When you think the king of steaks many immediately think of the porterhouse steak. No other steak offers you the perfection of a new york strip AND filet mignon within the same steak. The porterhouse is the sister to the t-bone steak which while amazing when smoked. In fact, the only difference between the two pieces of meat is that the porterhouse is the rear portion of the cut and that results in a larger portion of the filet. The "Tbone" as you can guess, comes from the front portion of the cut resulting in a smaller portion of the filet.
If the porterhouse or T-bone isn't up your alley, maybe one of our previous smoked steak recipes will be of interest?
Ingredients Needed For Smoking A Porterhouse Steak
1 -2 lb porterhouse steak
2 tbsp kosher salt
2 tbsp freshly cracked pepper
2 tbsp olive oil
Preparing Your Porterhouse Steak
Preparing your steak for the smoker is extremely easy. I tend to turn my Traeger on to its "smoke" setting to get it warmed up. While the smoker is warming up I grabbed both of the steaks and put them onto a cookie sheet. You'll note that for this recipe I purposely purchased a matching set of steaks meaning that the one on the left is a porterhouse and the one on the right is a t-bone. Same cut of meet as mentioned earlier but you'll see the left (porterhouse) has more filet that the t-bone.
Sprinkle salt and pepper on both sides of the steak and you're done. See, I told you it was easy!
Note that the steak on the right is a TBONE steak and contains less filet than the porterhouse on the left.
What Temperature To Smoke Porterhouse?
I recommend smoking your porterhouse at 225 degrees. Similar to the sirloin steak smoke, porterhouses do not have a ton of fat. This means it will cook quickly. When smoking steaks were simply looking to get the meat up to your preferred temperature. For my steaks, I'm shooting for a steak that is medium-rare or 130 degrees. Because this recipe requires a reverse seer to get the amazing char I took the steaks off the smoker at 120 degrees.
To seer your steak, you can use your pellet smoker on full heat, a gas grill or your favorite cast iron skillet. My personal preference is the gas grill as my pellet smoker does a poor job (IMO) of getting hot enough to properly seer. Regardless of your choice in seering equipment, you will want to give each steak a small coat of extra virgin olive oil before completing the seer.
One note of caution. While we remove our steaks from the smoker with a ~10-degree margin your steaks will heat up quickly. Do not leave them on your smoker/grill or skillet for too long. The idea is to not truly cook the steak but to simply add the amazing char that makes steak taste so good.
Finally, remove your steak from the grill, let it sit form 10 minutes to re-absorb the juices. Serve the steak with your favorite sides and enjoy!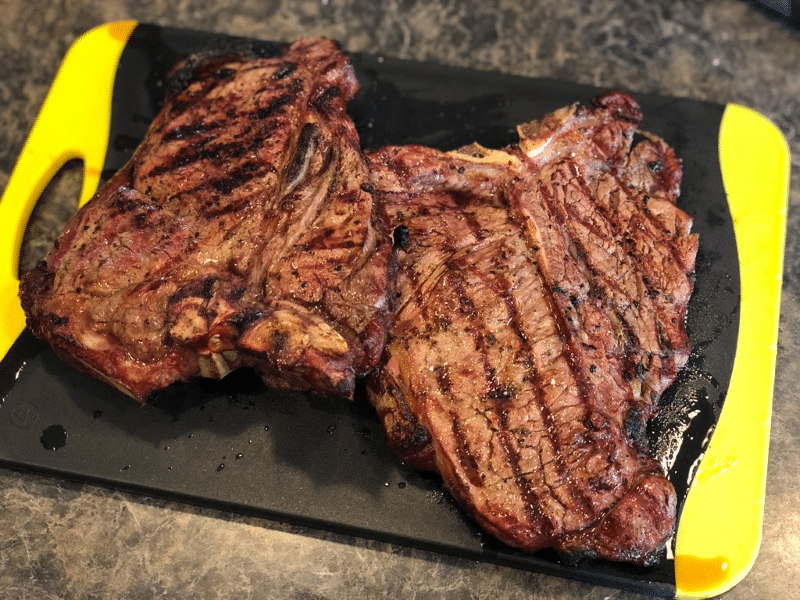 Get FREE Smoker Recipes Sent Directly To Your Email
Get This Recipe
Traeger Smoked Porterhouse Steak
The king of all steaks only gets better when you give it a little kiss of smoke. This recipe will knock your socks off.
Print
Pin
Rate
Ingredients
1

Porterhouse Steak

2

tbsp

Kosher Salt

2

tbsp

Fresh Cracked Pepper

2

tbsp

Extra Virgin Olive Oil
Instructions
Prepare your steaks by adding both the salt and pepper to both sides

Prepare smoker to reach 225 degrees F.

Place porterhouse on smoker and bring up to 120 (or desired temp)

Brush olive oil on porterhouse before placing on HOT grill to seer

Remove steak after seering and let rest for 5-10 minutes.