Can I let you in on a little secret? The parts of a full slab of ribs that are disregarded to make fancy St Louis cut ribs are THE BEST part.  These are the rib tips. If you haven't had rib tips before you are missing out. I'm telling you, 9/10 times id rather devour these than the actual rack of ribs themselves. They are that good!
Ingredients Needed For Making BBQ Rib Tips
The hardest part of this recipe is cutting the spareribs into the three sections that you see above. If you can get past this part (don't worry, it's not really that bad) then you are set. What you need for this recipe.
1 large rack of spareribs
1/2 cup of your favorite store-bought (or homemade) bbq seasoning
1 cup BBQ sauce
Cutting Your SpareRibs Into Rib Tips
After you take your spareribs out of its package you'll want to rinse and dry them. Flip them over and remove the membrane (silvery skin). If you leave this on then your ribs are going to be chewier then you want. Once the membrane is removed you'll likely see a flap of meat. You can cut this off. We'll be adding it to our rib tips later.
On top of the spareribs, you will see a bone. This is the sternum. You want to cut underneath that all the way to the end of the spareribs. Finally, you'll notice that the tail of the ribs is a bit flimsy. This is due to the last piece being cartilage and not bone. Identify the first bone and cut off the tail at that location.
After you remove the skirt meat, cut the sternum and tail end you'll have three fairly large pieces of meat which will become your rib tibs.
How to Smoke Rib Tips
Many choose to smoke this whole and cut them into chunks at the end. For this recipe, I cut everything upfront and gave them a healthy covering with my bbq seasoning. Make sure you don't cut them too small otherwise you risk having them fall in between your smoker grates.
What Temperature Should You Smoke Rib Tips?
Fire up your smoker to 225 degrees. Once you place them on the smoker it should take between 2.5 and 3 hours to reach 145 degrees. These tips will be too small for you to leave a probe in them so I look for when the meat starts pulling away from the bone. At this point, you are really close to being done.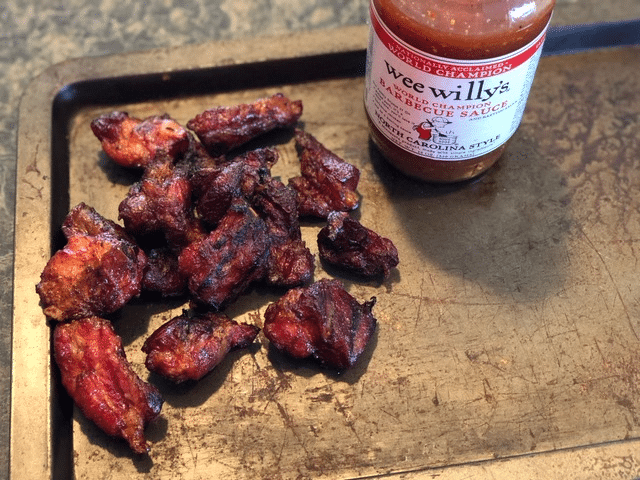 Toss In Sauce (or Don't) and EAT.
Once you take these off the smoker they are ready to eat. For this smoke, I tossed the rib tips in Wee Willy's Carolina style BBQ sauce. You can use your own home-made sauce or favorite store-bought sauce. I highly recommend trying them both with and without sauce. You really can't go wrong. Enjoy!
Enjoy this recipe? Consider supporting this website
Buy your bbq pellets via this amazon link and you'll support the site at no additional cost to you.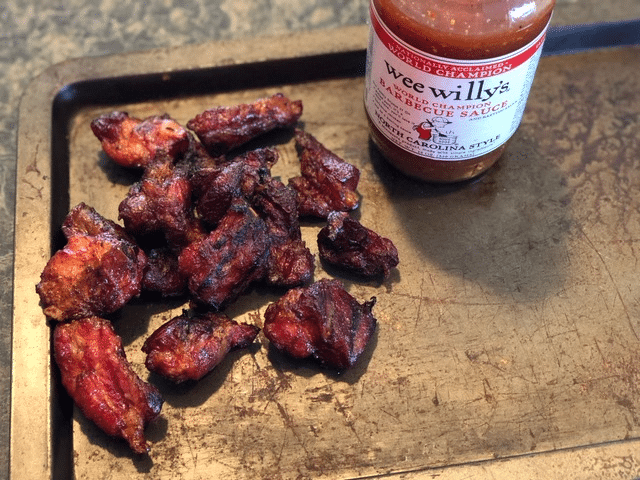 Traeger Smoked BBQ Rib Tips
Everyone loves traditional ribs. Many don't recognize that the "tips" can be an even bigger treat.