Pulled pork is a staple for the smoking world. You simply can't go wrong. Season it up, fire up the smoker, and 8-10 hours later you have the most amazing pull-apart pork you can dream of. If your family is like mine you always have leftovers. Sandwiches the next day are great but what if you stepped up your leftover game? This double-smoked pulled pork nachos will instantly become a family favorite.
Ingredients Needed For Making A Double Smoked Pork Nachos
This recipe is quick. You do need to fire up your smoker but the preparation of the nachos takes longer than the time it will be in the smoker. You might think a microwave is ideal (and it does work) but I promise the double smoke really makes these nachos pop!
1 bag of your favorite nacho chips
leftover pulled pork (this recipe is also really good with pulled beef!)
1 cup cheddar cheese (or your favorite kind of melty cheese)
Refried beans (optional)
Sour Cream (optional)
Salsa (optional)
Any additional topping you enjoy on your nachos (not pictured)
How to Smoke Pulled Pork Nachos
As mentioned previously, this recipe focuses on using up your leftover pulled pork from a previous smoke. Setting up your nachos is very easy. You'll be putting these nachos in the smoker later so make sure you spread your ingredients on a pan or dish that won't get ruined in the smoker.
Preheat Your Smoker to 350 Degrees F.
Everything in this dish is already cooked. We're simply using the head (and smoke) to warm it all up, melt the cheese and add an extra touch of smokey flavor. Make sure you use a dish that is safe for your smoker. I typically use an aluminum foil square pan but didn't have them on hand for this cook. You'll notice that I used a small cookie sheet which worked just as well.
Expect the cheese to be fully melted between 10-15 minutes. This step will vary depending on the amount/type of cheese you add.
Get Ready To Enjoy The Best Nachos Ever!
Once you remove these nachos from the smoker, add your favorite nacho topping and you are ready to eat. I promise you these won't last long!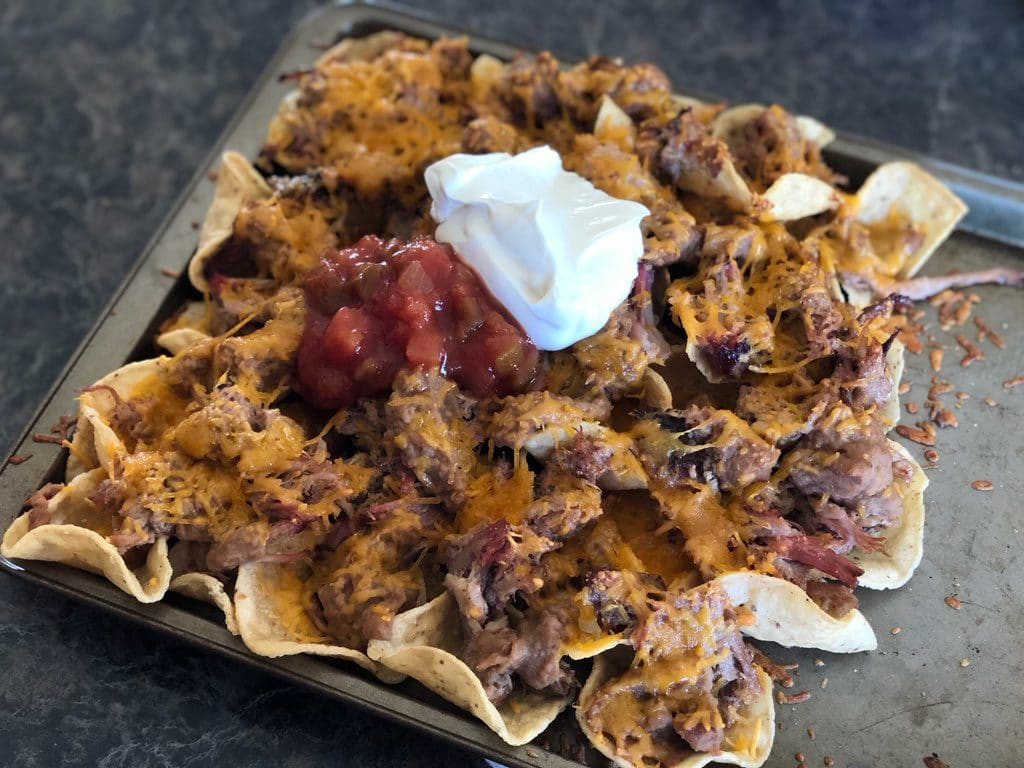 Enjoy this recipe? Consider supporting this website
Buy your bbq pellets via this amazon link and you'll support the site at no additional cost to you.
Double Smoked Pulled Pork Nachos
Stop reheating your pulled pork for sandwiches. It's time to up your game and try out these pulled pork nachos.