What's one of the most economical cuts of meats that don't lack in the flavor department? If you guessed pork chops you are right! I'm biased towards bone-in pork chops but a smoked pork loin roast (or cut up into boneless pork chops) is a close second. Today's recipe is a zero hassle and quick smoke. Let's jump right in!
Ingredients For Preparing Bone-in Pork Chops
One package of pork chops (I cook 3 in this recipe)
1 TBSP of your favorite seasoning – My new favorite store-bought seasoning for pork is called "PIG's Ass Rub" which is a Memphis-style BBQ seasoning.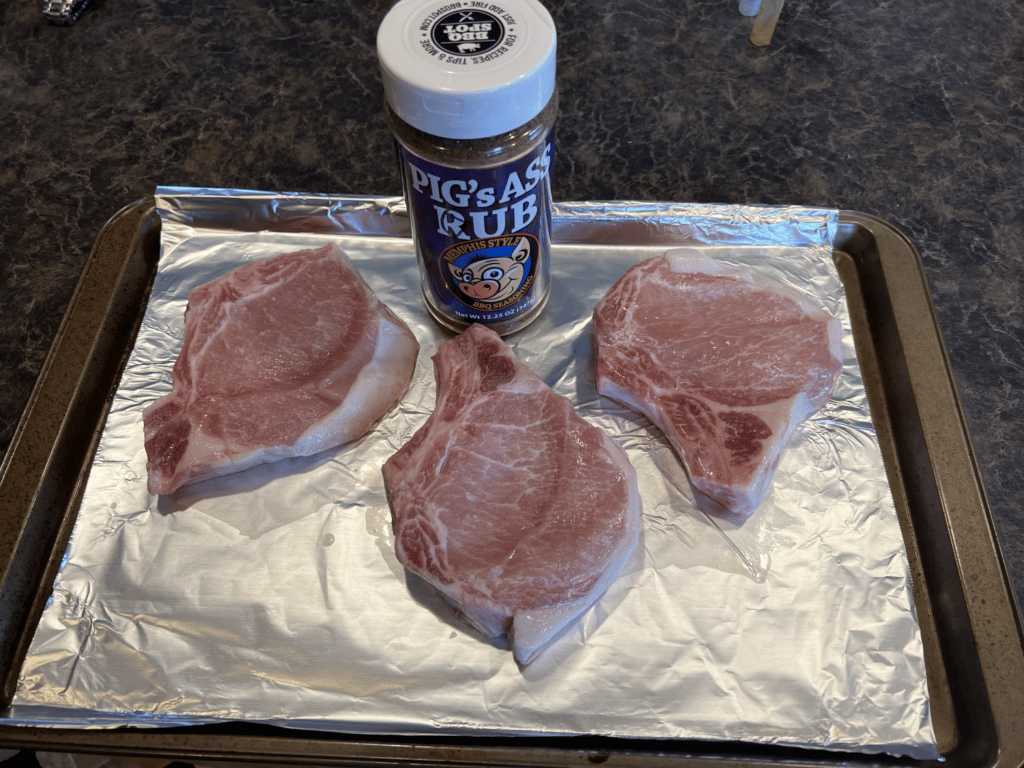 Smoking Directions:
Turn your smoker on and bring it to 225 degrees.
Remove your pork chops, trim them up (if required) and pat dry.
Add about 1 TBSP (or to your preferred taste) of seasoning to each pork chop (both sides). If memphis style bbq rub isn't your first choice, you can never go wrong with garlic salt and pepper.
Add the now seasoned pork chops to the 225-degree smoker.
These pork chops were 3/4 inch and did not take very long to get to our internal temperature goal of 135 degrees. These three reached 135 in about 40 minutes although you will want to prepare to smoke them to temperature and the thicker your pork chops, the longer you can anticipate it to take.
The CDC recommends cooking your pork to a minimum of 145 degrees. As with all my smoked steaks, I recommend using a very hot grill or cast iron pan to do a reverse sear. This reverse sear will bring your bone-in pork chops to the final 145 degrees while giving it that perfect final touch that we all enjoy from BBQ food.
Let your pork chops rest for a few minutes and either cut them up or serve them whole. ENJOY!
Recipe Step By Step (How-To) Images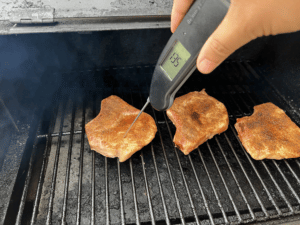 Enjoy this recipe? Consider supporting this website
buy your bbq pellets via this amazon link and you'll support the site at no additional cost to you.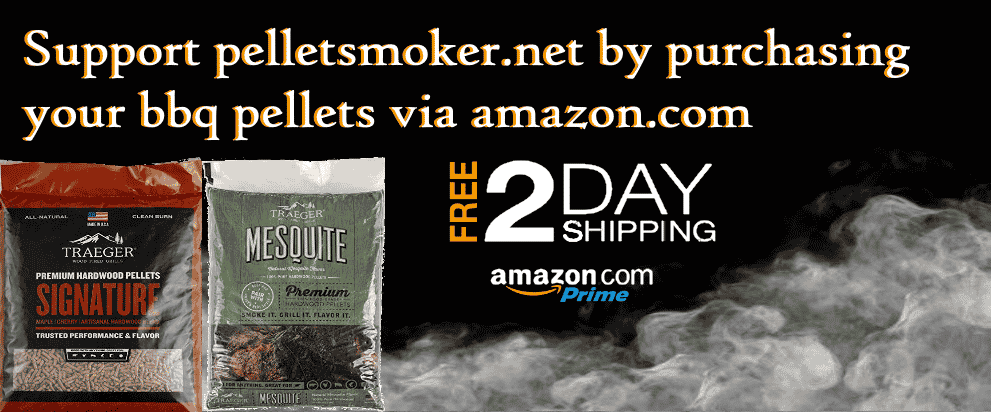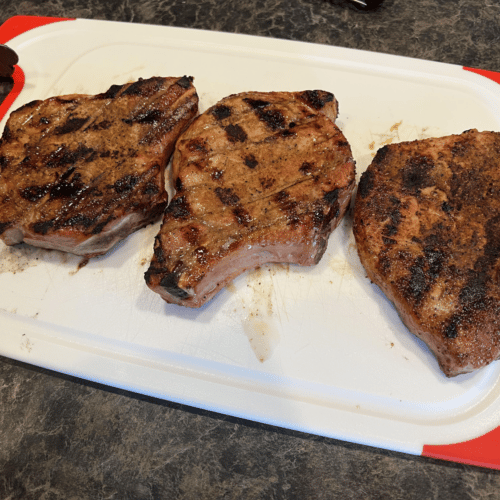 Traeger Smoked Bone-in Pork Chops
a very economonical (and tasty) cut of meat that when smoked (and reversed seared) can become a family favorite.