Growing up, meatloaf was a regular meal for us and was undoubtedly one of my top choices. Fun note, it wasn't until I went off to college did I even realize it was abnormal that my mom made our meatloaf with ketchup instead of bbq. Boy was I missing out! Don't worry folks, no ketchup in today's recipe but possibly one ingredient you haven't seen on other recipe sites!
Ingredients Needed For Smoked Meatloaf
This recipe is pretty easy, it just takes a little bit of time to prep. The good news is that if you know you'll be in a time pinch you can mix up your meatloaf and leave it in your fridge for later in the day or even the next day. To start, gather your ingredients. You're going to need the following.
1.5 pounds of ground beef (I used 80/20)
1 cup breadcrumbs (my breadcrumbs are GF due to my daughter being unable to eat gluten but you can use any breadcrumbs you have available)
2 TBSP minced onion
2 TBSP parsley flakes
3 TBSP A1 steak sauce
1 whole egg
2 TSP salt
2 TSP pepper
3 TBSP of your choice of BBQ (to baste at the end of the smoke)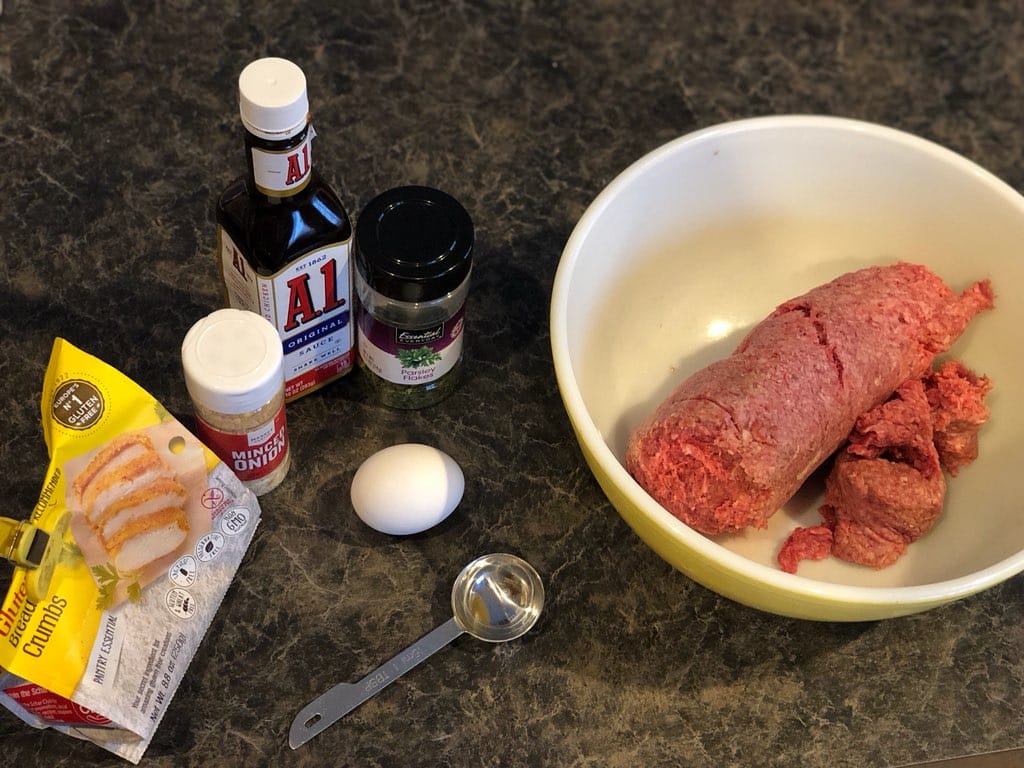 How to Smoke A Meatloaf
After measuring all your ingredients, place them all in a below (see image below) and mix it up. I recommend simply using your hands as it's easiest to work all the ingredients throughout the ground beef.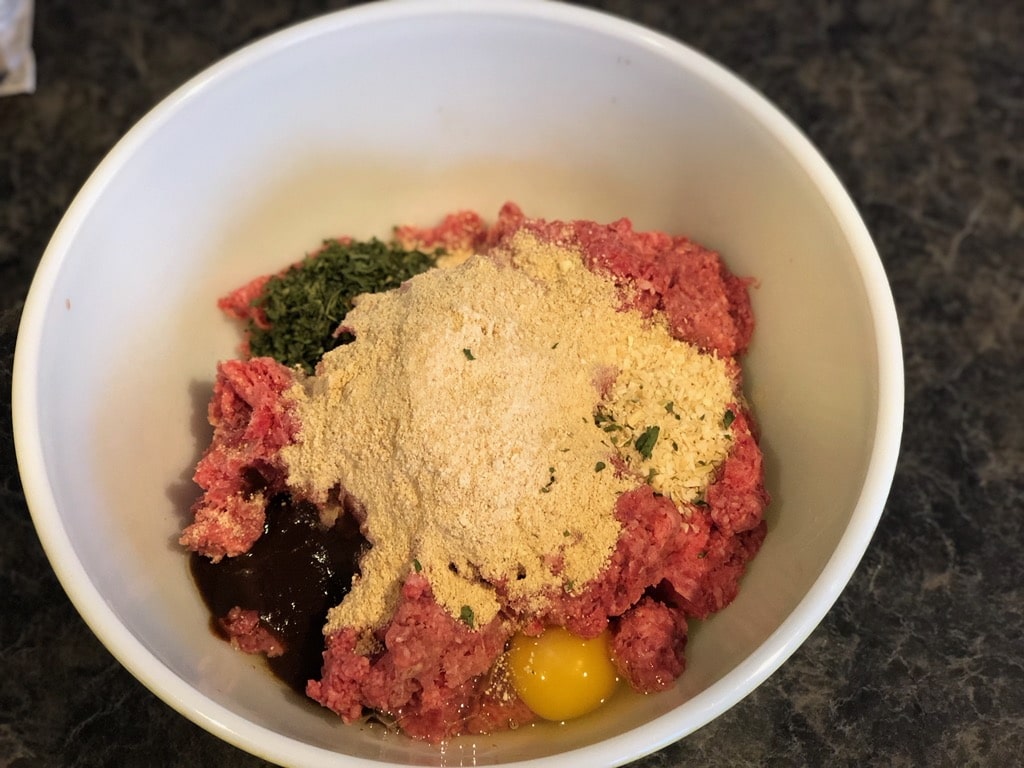 After you mix all your ingredients together, start forming into a large loaf. If you find this difficult, feel free to place the mixture into a bread pan and remove it prior to placing it on the smoker. You'll notice below that I formed the meatloaf in advance so I wrapped it in plastic wrap to maintain its shape.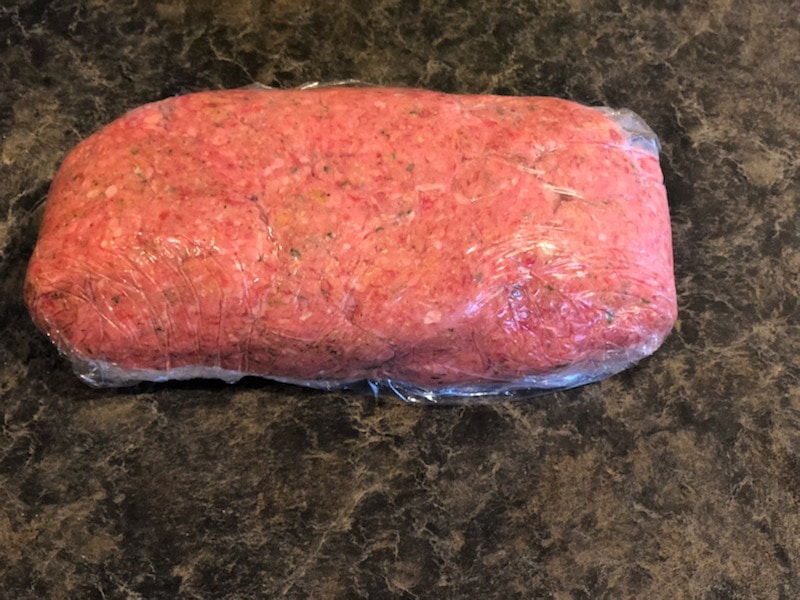 Preheat Your Smoker to 250 Degrees F.
If you plan on smoking your meatloaf immediately after mixing it up I recommend preparing your smoker prior to getting your hands dirty. Get the smoker up to 250 degrees, the entire smoke should take about 2 hours. The time will vary depending on the consistency of your heat as well as the size of your meatloaf. I use the iGrill mini to track the internal temperature of my smokes – in this instance 160 degrees. It's critical to remember to smoke to the final internal temperature, not just the estimated time it should take.
Basting Your Meatloaf With BBQ
One of the best parts of this meatloaf is the BBQ glaze. I personally use Sweet Baby Rays BBQ sauce but you can use your favorite (or homemade) recipes too. Once your meatloaf has reached 150 degrees, slather it up with BBQ and allow it to cook to its final internal temperature of 160 degrees.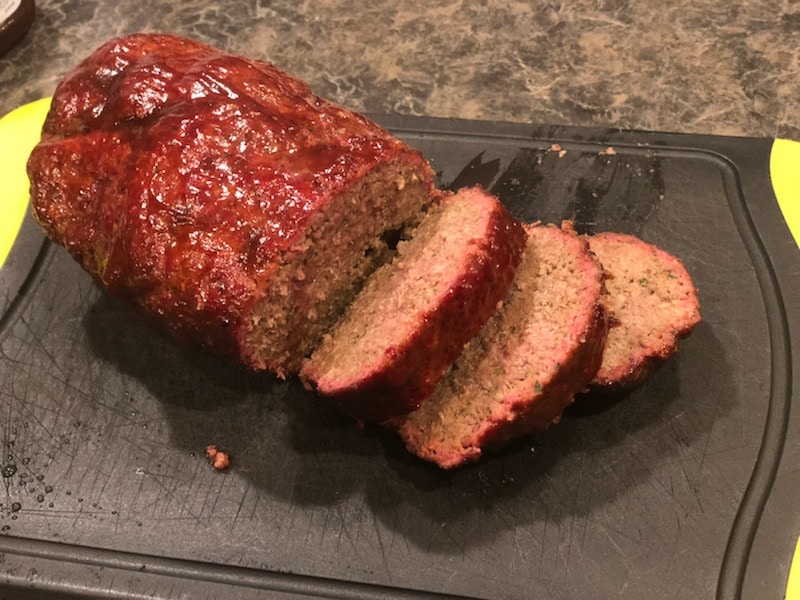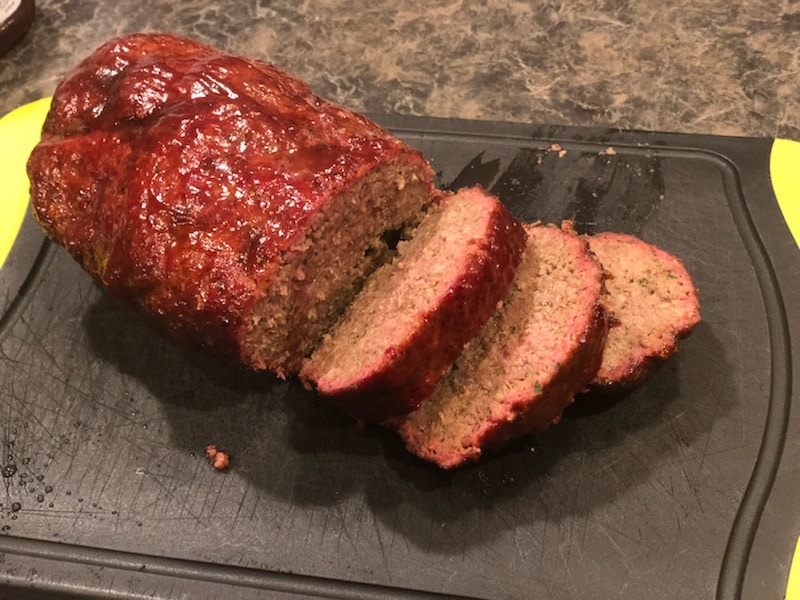 Enjoy this recipe? Consider supporting this website
Buy your bbq pellets via this amazon link and you'll support the site at no additional cost to you.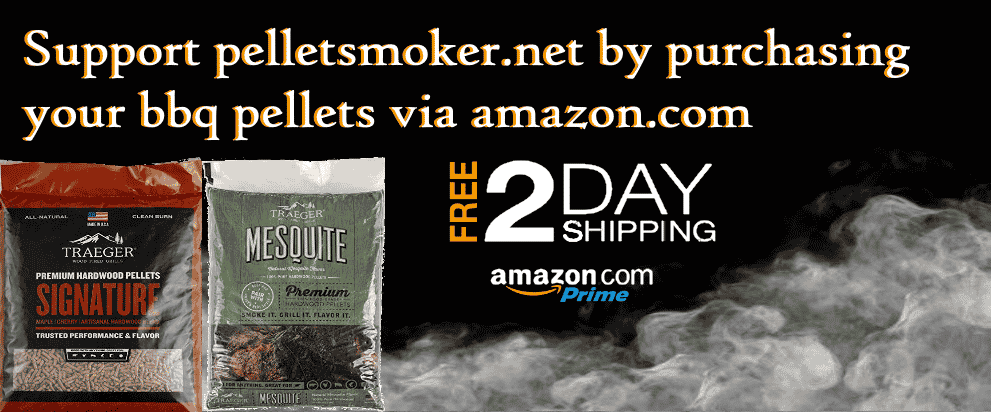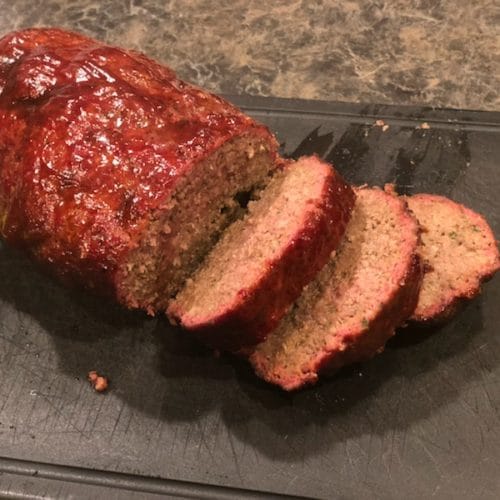 Traeger Smoked Meatloaf
All meatloaf is great, right? Add 2 hours of smoking time and witness the miracle of meatloaf with a beautiful smoke ring. You haven't had meatloaf until you've tried this one.
2

hours
30

minutes