Whether it be Easter, Christmas, or any other day of the week, a smoked ham hits the spot every single time. Today's recipe will walk you through each step needed to create an amazing DOUBLE smoked ham. Why double-smoked? Most cured hams are already smoked so by smoking it a second time we not only bring it to temp but add more amazing smoke flavor.
Ingredients Needed For Making A Double Smoked Ham
This recipe is fairly simple. I used a 6lb Ham and the ingredients below in order to make the glaze that we'll be basting the ham with during its smoke.
1 6lb bone-in ham (bigger/smaller is fine, just watch your internal cooking temperatures)
1 foil pan for easy cook/cleanup
2 Cups Brown Sugar
1 TBSP Molasses
1 Cup Apple Juice
How to Smoke A Bone-in Ham
Smoking a ham is very easy. In most cases, your ham is already cooked. The purpose of this recipe is to add smoke, add the amazing glaze, and bring the entire ham up to temperature. We are aiming for 140 degrees. Per all my recipes, I recommend that you leverage a meat thermometer instead of relying exclusively upon cook time.
Wash your ham and dry it off completely
Place the ham in a foil pan
Take a sharp knife and make a half-inch slice across the entire ham in a tic-tac-toe pattern
Place the ham in the smoker uncovered
For the glaze, you will need the molasses brown sugar and apple juice.
Combine all three into a small saucepan
Place saucepan on low heat and stir
What Temperature Should You Smoke Ham?
Fire up your smoker to 225. For this 6 pound bone-in ham it took a little over 5 hours to bring to smoke. Ham typically doesn't have a ton of marbling or fat in the meat so you don't need to smoke it for 10+ hours like you would a pork butt.
Adding the Best Part – The Glaze
Smoked ham by itself is a treat but it's the caramelized glaze that puts it over the top. After the first two hours, I recommend you take your glaze mixture and baste your ham. You can use a spoon, a brush, or even a bbq mop. You do not have to worry about adding too much.
At this point, we're going to go against smoking best practices and you'll be opening up your smoker every 30 minutes for the last 2-hours. This will allow you to add additional glaze so that your final product has an amazing caramelized coating.
Once the ham reaches 140 degrees, pull off the smoker and start cutting it up for your family and friends to enjoy!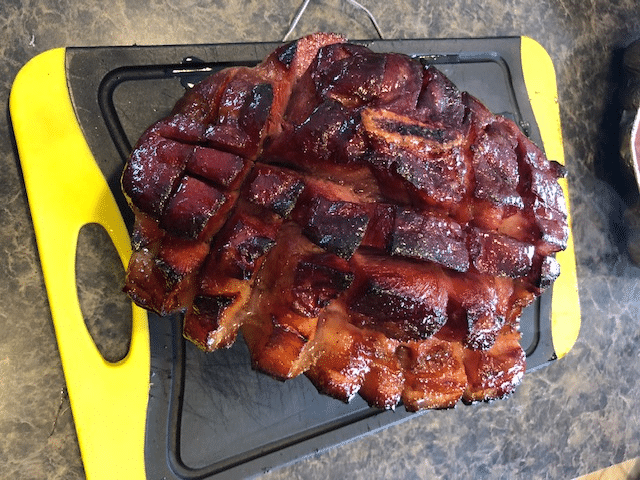 Enjoy this recipe? Consider supporting this website
Buy your bbq pellets via this amazon link and you'll support the site at no additional cost to you.
Get This Recipe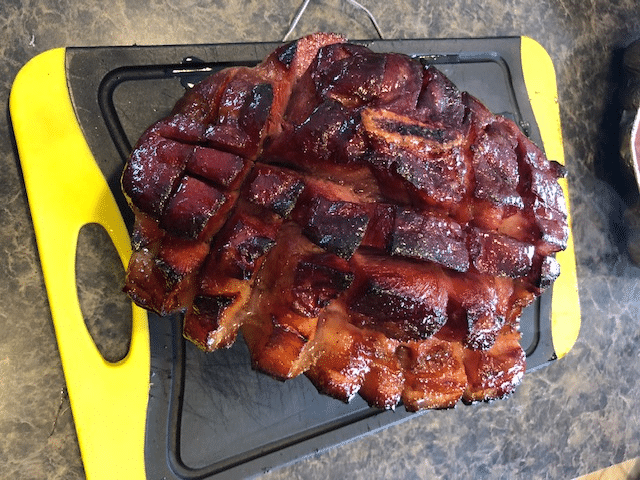 Traeger Double Smoked Ham
An incredibly easy ham recipe that tastes great due to the double touch of smoke.