If you're like me you frequently crave chicken wings. Not just any chicken wings but the ones with crispy skin and the perfect amount of seasoning that makes you excited to grab the very next wing. The good news is that you don't have to run to the nearest bar and grill to get these types of amazing wings. Today I'll walk you through how to make your own dry-rubbed chicken wings on a pellet smoker.
Step one: Seasoning your wings
I regularly buy the Kirkland 10lb bag of chicken wings at Costco. The wings are already split and buying in quantity makes it easier on the wallet. I believe the last bag I picked up was around $21.00.
The wings I purchased for this recipe were already pre-frozen so I let them thaw out in the fridge overnight. After completely thawed I ran them underwater and patted them completely dry with some paper towels.
After the wings are completely dried off, you can liberally coat them with your seasoning of choice. For this specific recipe, I made my own dry rub with items I had available in the cupboard. You can find my measurements below.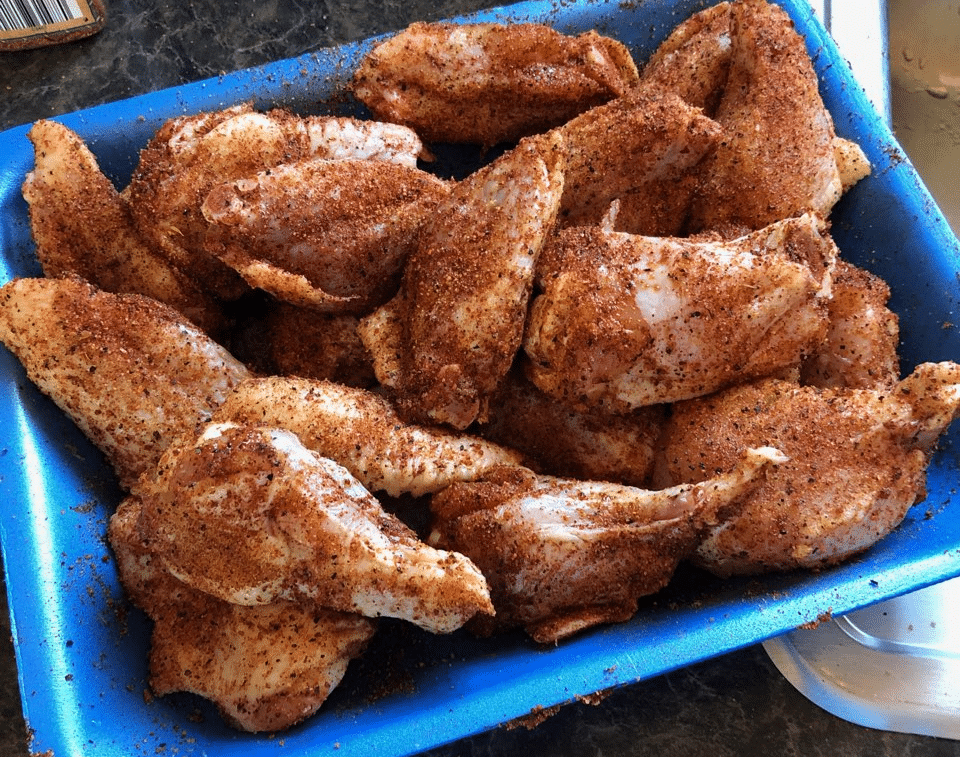 Step two: Set your smoker to 250 degrees
One of my favorite parts of smoking food with a pellet grill is how simple it is to maintain a consistent temperature. Set your smoker to 250 degrees and let it get to temperature. Once at temperature, open your smoker up and spread out your chicken wings evenly. My smoker fuel of choice is the Pit Boss competition blend. However, let me know in the comments how your wings turn out with any other pellet flavor.
Step three: The waiting game begins (2-2.5 hours)
Ideally, you're cooking a batch of wings that are all the same size. However, this wasn't the case for me. After about 2 hours some of the smaller wings were ready to come off the smoker. These naturally served as chefs "test tasting" wings. You know the wings are ready when your probe tells you that the wings are at 165 degrees. I tend to let mine sit for a few more minutes (closer to 170-175) as I enjoy a crisper skin.
Pro Tip: Enjoy really crispy wings? Boost the heat up to 350 for the last 20-30 min of your smoke time.
Step four: EAT (and enjoy) your dry rub wings
Once you rip these bad boys off your smoker you'll be eager to get your hands on them. Call your friends and family, start handing out plates and enjoy. If you have additional tips or feedback on these wings, I'd love to hear your feedback in the comments!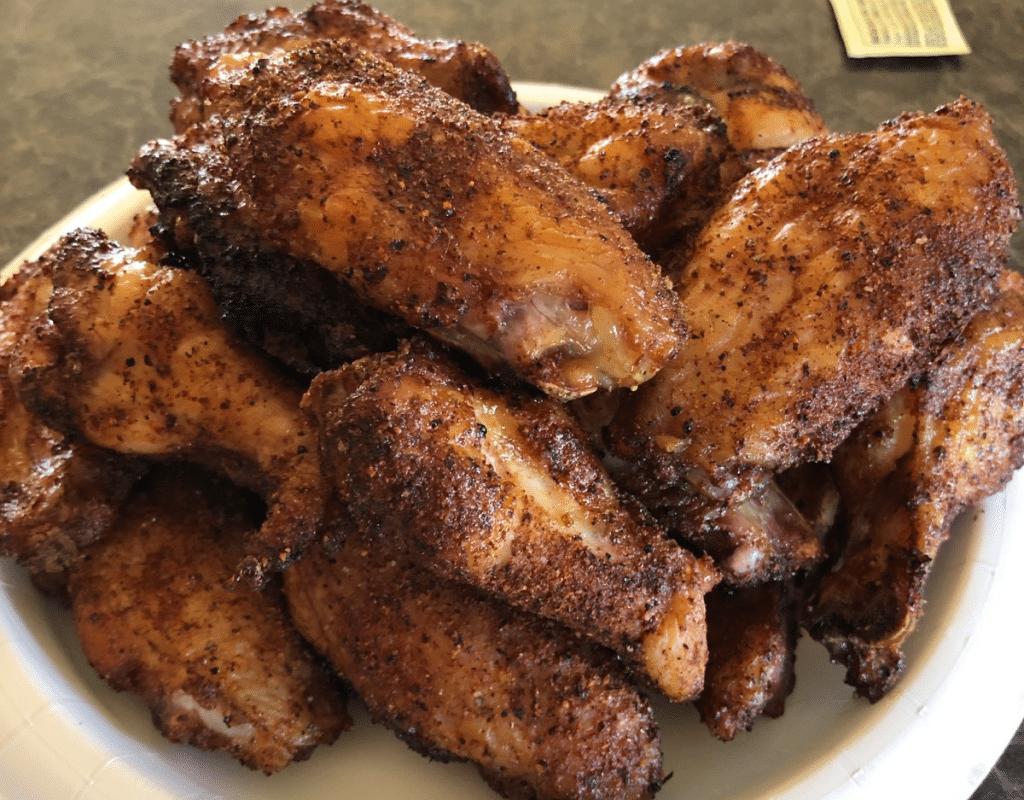 Enjoy this recipe? Consider supporting this website
Buy your bbq pellets via this amazon link and you'll support the site at no additional cost to you.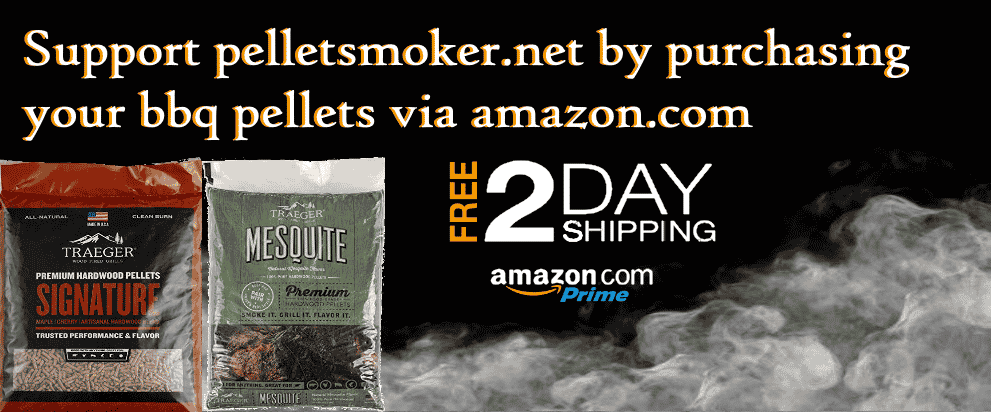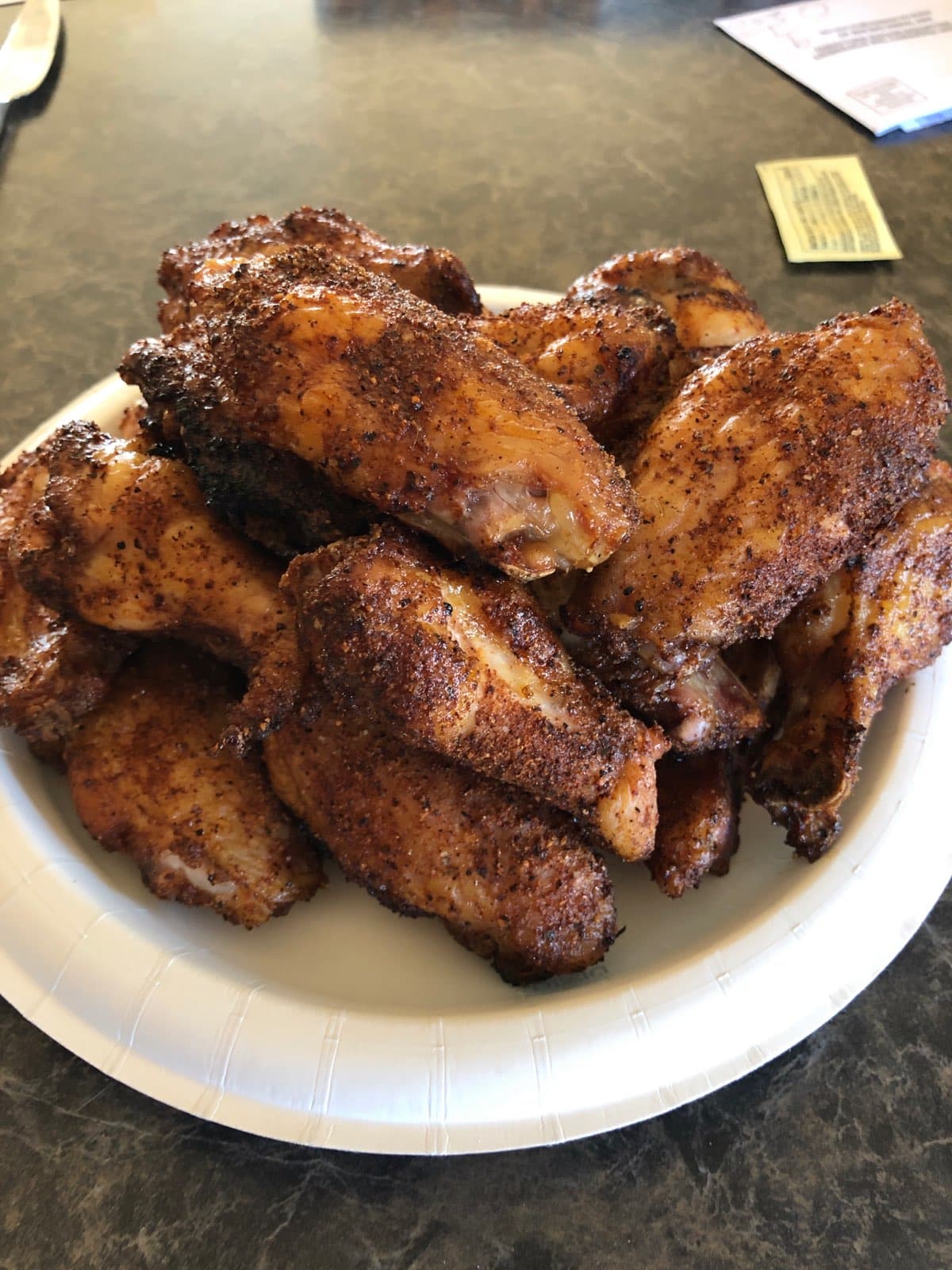 Dry Rub Chicken Wings
Incredibly easy to make dry rub chicken wings in the pellet smoker.