Are you a fan of smoked whole chickens? Imagine how amazing it would be to have an individual-sized portion. This is exactly what cornish game hens offer. In this recipe, I walk you through the process of smoking up these delicious birds. For those cautious of a gamey taste, don't be concerned. These truly taste like mini chickens in my humble opinion.
Ingredients Needed For Smoking Cornish Game Hens
2 whole Cornish game hens
2 tbsp Extra Virgin Olive Oil
Homemade BBQ seasoning (see list below)

Preparing Your Cornish Game Hens
Preparing your cornish game hens is very similar to a whole chicken. We're first going to rinse the hens under water and pat them dry.  Next, you'll want to mix all your seasonings together to make up the BBQ seasoning. This seasoning recipe comes from All-Recipes and it's a bit spicy so if you want to cut down on the heat I recommend not adding the cayenne pepper.
You'll want to use one tbsp of extra virgin olive oil and rub it around the entire bird. Afterward, you can liberally rub the bird with the bbq seasoning. Repeat this process for each additional bird you plan to cook. The bbq seasoning recipe included will be enough for roughly 4 birds though you can easily keep the seasoning as leftovers for future smokes.
Smoking at 300 degrees
I recommend smoking your hens at 300 degrees. This is a little hotter than most smoked but you want to avoid the skin on these birds turning to rubber. Smoking around 300 degrees for a little over one-hour should get you a beautiful golden bird that's cooked perfectly to 165 degrees. Please always use a thermometer to ensure you reach your desired temperature instead of relying on a cooker. I personally am a big fan of the iGrill mini-series as it syncs right up to my phone.
Once your cornish hens reach their finished temperature remove from the smoker and let rest for a few minutes. Serve them whole or cut them into sections exactly as you would a whole chicken. Enjoy!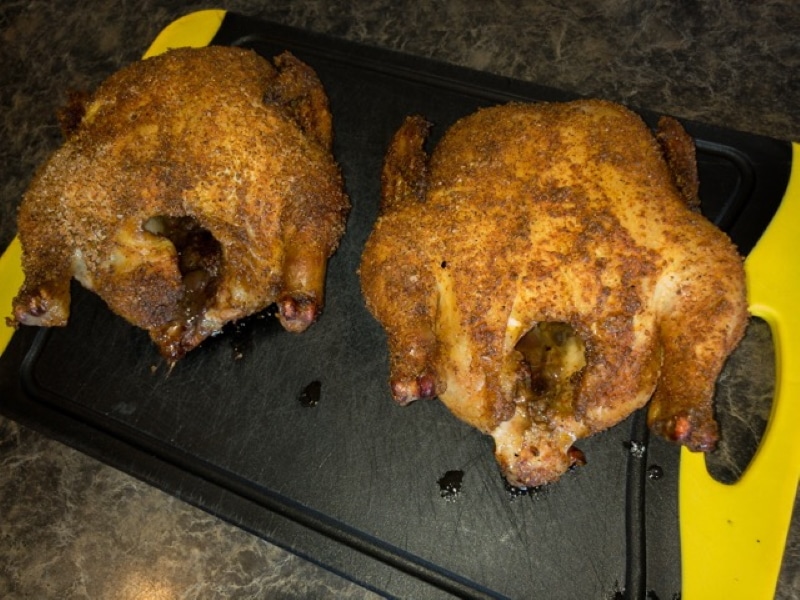 Enjoy this recipe? Consider supporting this website
Buy your bbq pellets via this amazon link and you'll support the site at no additional cost to you.
Get This Recipe
Traeger Smoked Cornish Game Hens (Whole)
Do you love smoked whole chicken? Cornish game hens taste very similar and are a smaller portion so you can enjoy an entire bird to yourself. Sharing is overrated with this recipe!