Are you always fighting for the chicken legs during dinner? Maybe you love chicken wings but wish to get more meat out of each drummy. In today's smoker recipe I show you how to make smoked chicken legs. In fact, this recipe is good for both BBQ and buffalo versions too.
If you're looking to serve chicken legs at a part but worry about their appearance look at my recipe for smoked chicken leg lollipops. It adds just that little extra visual appeal with the same amazing taste.
Ingredients/equipment for Smoked Chicken Legs:
10 individual chicken legs
2 tbsp olive oil
1.5 tbsp black pepper
1.5 tbsp of garlic salt
3-4 tbsp of bbq seasoning (optional)
your favorite bbq sauce to taste (optional)
your favorite buffalo sauce to taste (optional)
wire rack for suspending legs in the smoker (optional)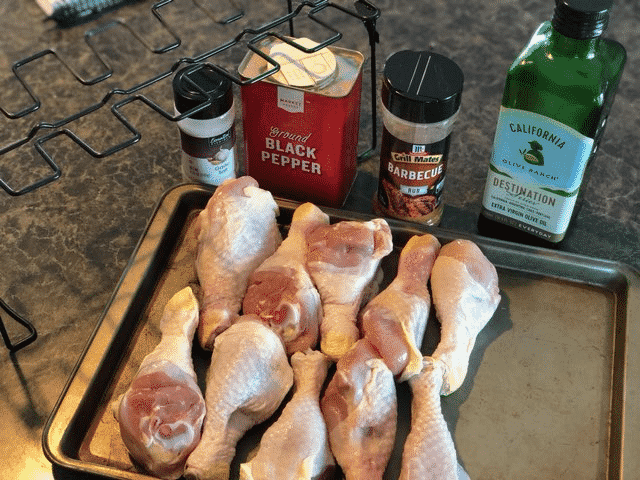 Smoking Directions:
Turn your smoke on and prepare it to 275 degrees.
Remove the chicken legs from their package, rinse, and pat them dry.
Use the olive oil to give each leg
If you don't intend to use any sauce rub each leg with equal parts black pepper and garlic salt.
If you intend to sauce your legs (like this recipe) use the salt/pepper mix for the buffalo legs and the bbq seasoning for legs that will be sauced with BBQ.
Add chicken legs to your smoker. This recipe shows a chicken rack to suspend the legs but it is not required. If not using a rack, turn your chicken legs after the first thirty minutes.
Allow chicken to smoke for 60 minutes.
At 60 minutes, turn your smoker up to 350 degrees. This is going to help crisp up the skin. Leave at 350 for 20 minutes until your chicken reaches an internal temperature of 155 degrees. Take your favorite BBQ and/or buffalo sauce and brush each leg. Return to the smoker for another 10-15 minutes until each leg reads above 165 degrees.
Recipe Step By Step (How-To) Images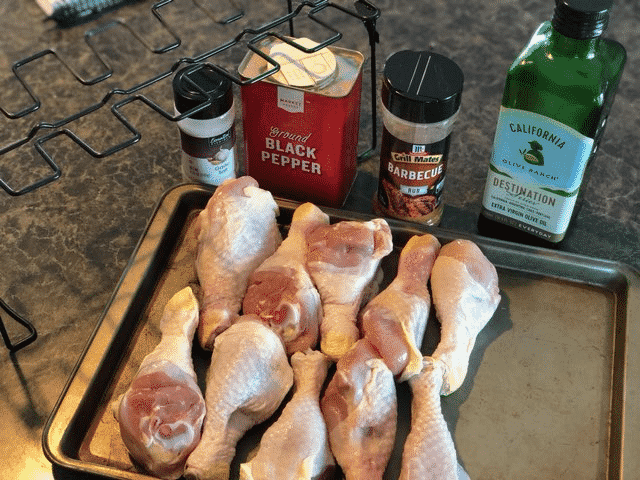 Enjoy this recipe? Consider supporting this website
Buy your bbq pellets via this amazon link and you'll support the site at no additional cost to you.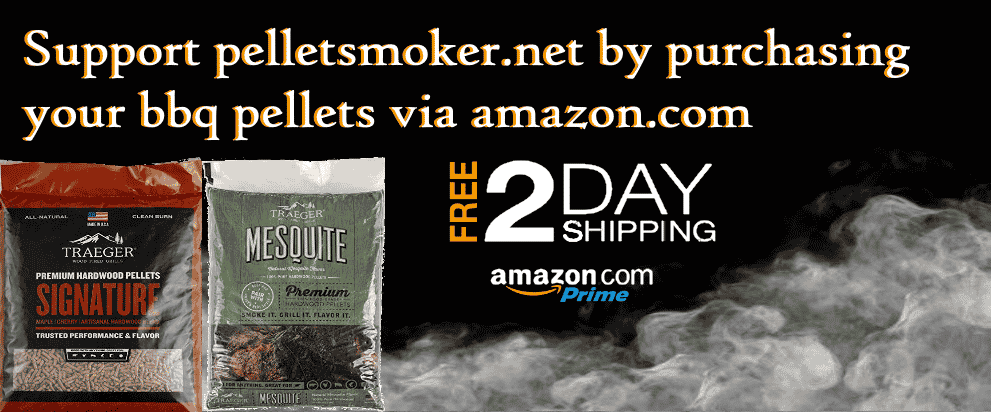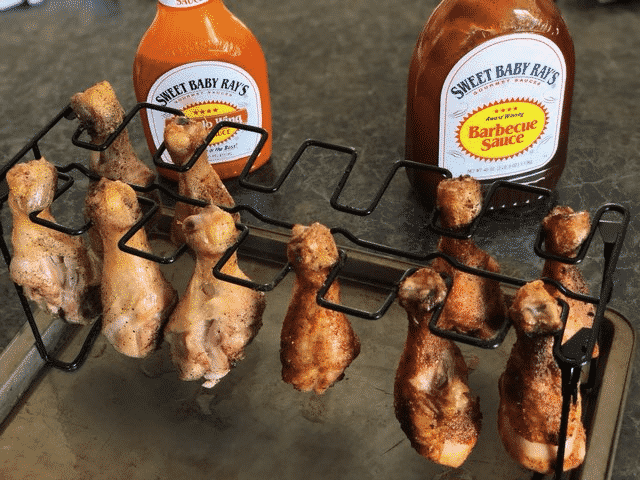 Traeger Smoked Chicken Legs
These smoked chicken legs are very easy to make. Add some of your favorite BBQ or buffalo sauce to take these chicken legs to the next level.