The last time we talked wings I shared with you my recipe for amazing dry rub smoked wings. While they hold a special place in my heart, nothing beats the original buffalo wing. Today, I'll walk you through the steps to create crispy wings in a hot buffalo sauce that rival the best wings from your local bar.
How to Smoke Buffalo Wings
I picked up a 10lb bag of chicken wings for Costco for roughly $21.00. This recipe covers about 2 lbs of wings or 20 wings/drums. The wings I picked up come frozen so the first step is to pull the wings that you want to smoke out of the bag and let them defrost. I pulled mine out the night before, placed them in a ziplock bag and let them defrost overnight in the refrigerator. If you are pressed for time, you can run the wings underwater for about 5-10 minutes. Make sure they are fully defrosted before you cook them.
Once your wings are defrosted, make sure they that you dry them off. This recipe uses basic pepper and garlic powder. The buffalo sauce we'll cover later on will be the main attraction for your taste buds!
Smoking Instructions
Turn your smoker on and preheat to 350 degrees. This smoke is a little different since we're purposely cooking hot to ensure the skin on these wings come out crispy. If your buffalo wings don't have a crisp bite to them are they really considered buffalo wings?
Place the wings in the smoker for roughly 1 hour. We're aiming for a minimum internal temperature of 165 degrees. I, personally like my wings really crispy so I let these wings get up to 175 before taking off the smoker. I think they came out perfectly!
Preparing the Buffalo Sauce
While your wings are doing their thing in the smoker, grab your Franks Red Hot, butter and a small saucepan. Combine 1 cup hot sauce and half a stick of butter into the saucepan and place it over low heat on your oven. The goal is not to boil this buffalo sauce but to let it mix together and simmer. I find that letting it simmer at this low temperature for 45-60 minutes creates the perfect sauce that's not too thin nor too thick.
Tossing Your Wings In Buffalo Sauce
We made it to the best part, guys! We have some beautifully crisp wings and a saucepan full of aromatic buffalo sauce. It's time to combine them! In a spare bowl, place half a dozen wings and poor some wing sauce over the top. With a few tosses, you'll be staring at wings that are begging to be eaten.
Finally, It's Time To Eat!
I bet you never thought we'd get to this point. Once you've tossed your wings in the buffalo sauce it's time to plate these wings and serve. I have yet to have even the purest of buffalo wing enthusiasts complain about these wings. Let me know in the comments what you think.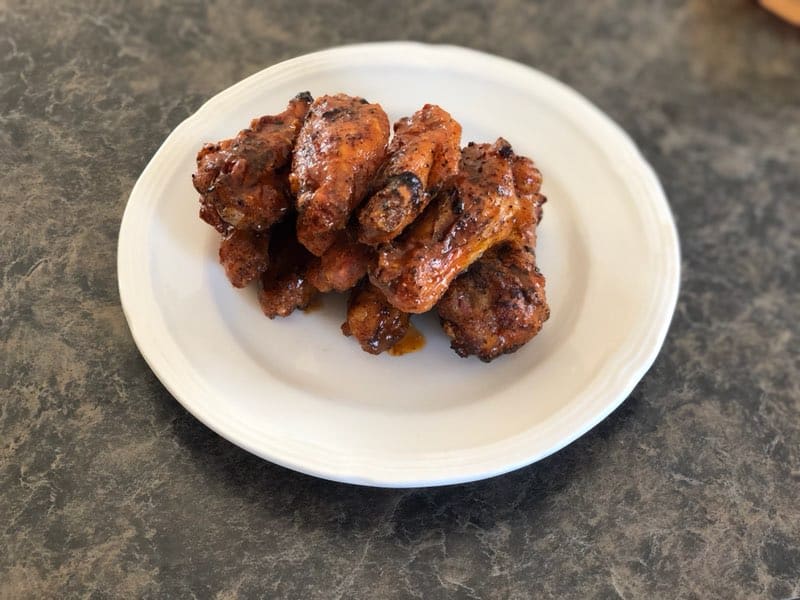 Enjoy this recipe? Consider supporting this website
Buy your bbq pellets via this amazon link and you'll support the site at no additional cost to you.
Traeger Smoked Buffalo Wings
Put these smoked buffalo wings up against any wings you get from your favorite bar. You'll never pay restaurant prices again!
1
hr
20
mins