When someone thinks about smoked meat it's very likely that pulled pork is one of the first items that come to mind. There are a lot of restaurants that offer great pulled pork but nothing tastes like one that you've made in your own backyard. I'm going to show you exactly how easy this is today. Pulled beef more your thing? I've got you covered too!
Ingredients Needed For Making BBQ Pulled Pork
I promised you easy. Prepping your pork shoulder takes 15 minutes and you'll be on your way to beautiful shredded pork before you know it. What you'll need for this recipe is:
1 5lb Pork shoulder
1 cup of your choice of BBQ pork seasoning
2 TBSP mustard
How to Smoke A Pork Shoulder
As previously mentioned, nothing about this recipe is difficult. Well, waiting for it to smoke can be taxing but if I have the patience for this smoke then I know you do too.
Start off by rinsing your shoulder under cool water and pat it dry. You'll then want to smother the entire shoulder with mustard. I use regular French's sandwich mustard. After thoroughly covered with mustard you will want to liberally coat with your BBQ seasoning of choice. To emphasize just how easy this recipe is I picked up a store-bought "Grill-Makers" BBQ seasoning.  You can easily replace with your favorite store-bought seasoning or mix up your very own concoction.
Preheat Your Smoker to 225 Degrees F.
The key to this recipe is low and slow smoking. This roast was fairly small at five pounds but still required 8 hours on the smoker. If you are using a much larger shoulder you will need to account for added time.  I find that these smaller shoulders are great for feeding the family without having to wake up super early or running the smoker overnight.
I highly recommend that you use a meat thermometer for all of your smoking projects. However, low and slow cooks like this make it essential to your success. We're aiming for 200 degrees F. The high internal temperature will not only cook the meat but it will break down the collagen further making the meat super moist and easy to pull apart.
Shredding (Pulling) Your Pork Shoulder
After your shoulder reaches 200 degrees I like to wrap it in foil and have it rest for 1 hour. After resting you'll notice how incredibly easy it is to pull the meat apart.  I personally use a pair of silicon gloves to avoid the heat but still get that amazing shredded end product. Don't have gloves? Simply grab two forks and start pulling the meat from both ends until the meat is at the consistency that you want. When you're finished you'll have some of the best pulled pork you've ever had.  Eat it by itself or throw a bunch on a bun with some added BBQ sauce. Enjoy!!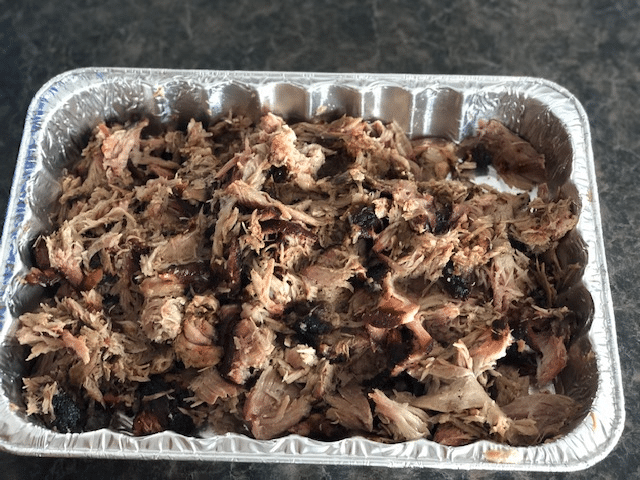 Enjoy this recipe? Consider supporting this website
Buy your bbq pellets via this amazon link and you'll support the site at no additional cost to you.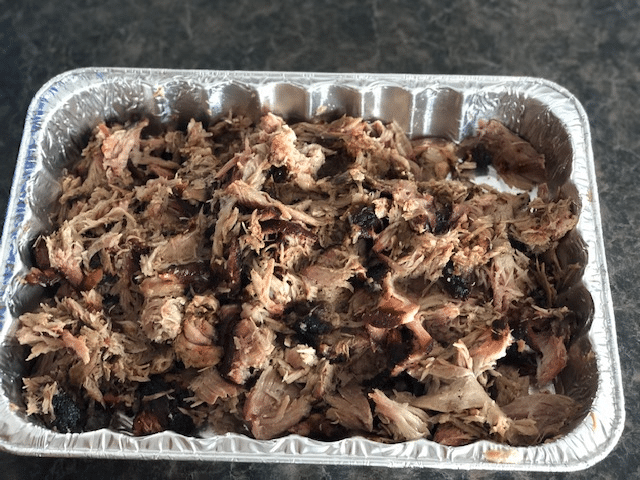 Traeger Smoked Pulled Pork Shoulder
This smoke might test your patience but the result will be more than worth it.