When you think of smoked foods one of the first things that come to mind is smoked bbq ribs. I have yet to meet someone who doesn't enjoy this recipe. It's very easy so those who are new to the smoking game should have very little difficulty replicating the delicious pork ribs you see above.
Notice that this recipe doesn't leverage any fancy 3-2-1 methods, wrapping or long rest periods in a cooler. This is a very easy recipe that requires limited work yet results in amazing fall off the bone BBQ.
Smoking Instructions:
Remove the pork ribs from the package and give it a good rinse underwater. Pat the ribs dry with paper towels.
Flip the rack of ribs over and remove the silvery membrane. I use a small sharp knife to work the membrane up on the edge and then use ripped it off in entirety. *this step is crucial to avoid rubbery ribs.
Once you remove the membrane,  rub the ribs with a generous amount of BBQ rub. For this recipe, I used a store-bought rub. You can find the Grill Mates Barbecue Rub that I picked up via Amazon here.
Warm-up your smoker to 250 degrees and place the ribs directly on the rack. We're aiming for a done temperature of 190 degrees. It will take about 3 hours.
After letting the ribs smoke for 2 hours you'll want to start basting the ribs with your sauce of choice. I use Sweet Baby Ray's BBQ sauce. It's by far my family's favorite mass-produced BBQ sauce. Again, if your lazy like me and want to order it on Amazon, you can pick it up over here.
Continue to smoke the ribs for another hour or until you hit the coveted 190 degrees. Once you see the bones poking out of the ends of the meat you know you're getting real close.
Carve up the ribs and serve. I told you these were super easy. Enjoy!
Enjoy this recipe? Consider supporting this website
Buy your bbq pellets via this amazon link and you'll support the site at no additional cost to you.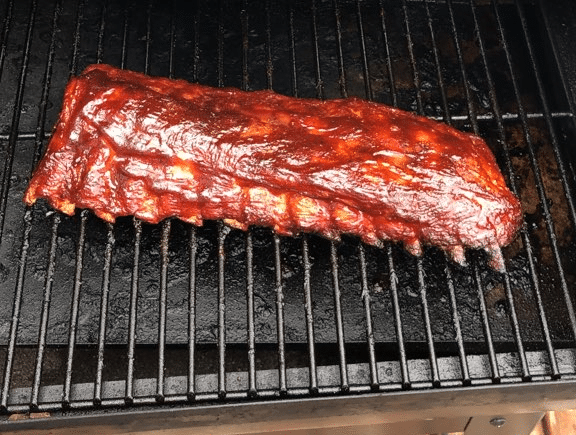 Traeger Smoked BBQ Pork Ribs
3
hrs
25
mins