When someone mentions ribs, a lot of us including myself immediately think of fall-off-the-bone bbq pork ribs. What is often forgotten is the wonders of beef chuck ribs. These ribs come in a few different cuts. Today's smoke walks you through making beef chuck ribs.
You can typically get two different types of chuck ribs. Some come with a lot of extra meat on top of the bones often referred to as beef plate ribs. Another cut, which we are smoking today is beef chuck ribs that don't contain as much meat. Due to these ribs having less meat they are much more affordable.
Regardless of the beef ribs you picked up, this recipe will work for both. If you have the larger plate ribs anticipate another few hours of smoking time.
Ingredients Needed For Smoking BBQ Beef Ribs
~8 beef ribs likely available in two separate 4 rib sections
4 tbsp of your favorite dry BBQ seasoning or use your own homemade blend.
Preparing Your Beef Ribs
Beef ribs are a labor of love. You'll see below that these beef ribs required a bit of cleaning up. Not only did I trim off access fat but all ribs also contain a thin membrane on the backside of the ribs. Some pitmasters will have you leave them on while I prepare to remove it to make the ribs fall off the bone tender.
Once you have the ribs cleaned up you'll want to add your favorite bbq rub. I recommend putting it on liberally and on both sides of the ribs. You can see how I applied my rub below.
What Temperature To BBQ Beef Ribs At?
Beef ribs require a low and slow smoke. I set my pellet smoker at 225 and these ribs were done in about 3.5 hours. If your beef ribs have significant "plate" meat on top then you can expect your smoke to last closer to 6-8 hours. The temperature we are aiming for is 200-205 degrees F.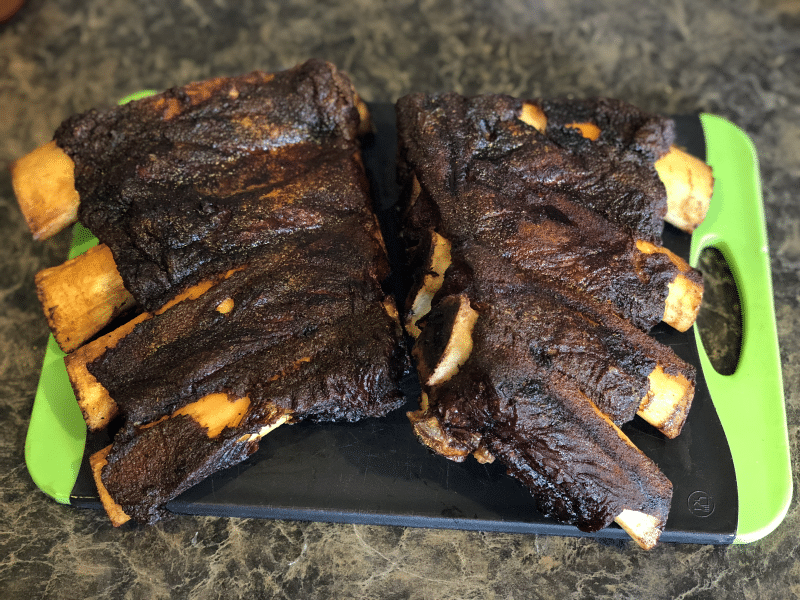 To Spritz, Wrap Or Leave As Is?
I find that beef ribs, even at 225, come to temp pretty quickly. I've recently taken to spritzing my ribs to help keep the ribs at a lower temperature. This ultimately allows for a longer smoke and the beef being incredibly tender. The decision to wrap your ribs (pork or beef) is completely up to you. For this smoke, I left them as-is. Others may argue that there is too much bark on these ribs. This is where your personal preference plays a significant role in your smoke.  For me, the final result of these beef ribs was to die for. Let me know in the comments how your ribs turned out.
Enjoy this recipe? Consider supporting this website
Buy your bbq pellets via this amazon link and you'll support the site at no additional cost to you.
Traeger Smoked Beef Chuck Riblets
Beef ribs so good they fall off the bone. You'll never go back to pork ribs after eating these.