This past weekend the family ran to Costco. This is basically meat heaven for all of us who enjoy smoking. During this trip, we picked up a pack of really nice new york strips. The method of cooking this steak on the smoker is very similar to the recipes I've shown you all for t-bone steak, sirloin steak, ribeye steak, porterhouse steak, and even tomahawk ribeye steak. Let's not waste time and get right into this one.
Ingredients Needed For Smoking New York Strip Steaks
2 one-pound new york strip steaks
2 TBSP of your favorite steak seasoning. I used Montreal steak seasoning this time.
2 TBSP butter
2 tsp garlic
Preparing Your New York Strips
This is a full-proof way to cook an amazing steak. All you need are some cook steaks, your favorite steak seasoning, a temperature probe, and a smoker.
Remove your steaks from the packaging and give them a good coat of steak rub. It was about 2 TBSP for the new york strips you see below but add as much seasoning as you like to yours. It's also a great idea to do this step as you wait for your smoker to come to temperature.
What Temperature To Smoke New York Strips?
I'm a firm believer in smoking all steak at 250 degrees F. When you remove them from the smoker they will be a bit grey in color. To me this isn't super appetizing so I finish my steaks off on the propane grill or an extremely hot pan. In all of the other smoked steak recipes, I finished them on the propane grill so I changed it up and used a hot pan over the stove. If you want to aim for a medium-rare steak, I recommend taking the steak off the smoker at 120 degrees F. For these steaks, that was about 35-40 minutes.
Seering Your Steak + Butter (yes butter!)
As mentioned previously, when you remove your steak from the smoker it might look a bit grey. When I eat steak,  I enjoy a perfect seer which allows for the juices to stay inside and give the steak that little crunch that makes a steak so perfect.
To take these new york strips to the next level, I finished them in a hot pan over the stove with both butter and garlic. Before adding your steaks to the pan, add a tbsp of butter and minced garlic and allow it to get really hot. At that point, place your new york strips on top of the melted butter and garlic. I kept my meat thermometer probe in the steak and flipped once at 128 and removed the steak at 130.
Rest Your Steak for 5 Minutes+
After removing your new york strips from the pan I suggest you allow the steak to rest for at least 5 minutes. This will allow the juices to soak back up in the meat. After giving the steak 5-10 minutes, your steak is ready to serve. You'll notice in the photo below that this new york strip turned out a perfect medium-rare. The butter and garlic added just the right amount of extra flavor to make this a family favorite in my household. Enjoy!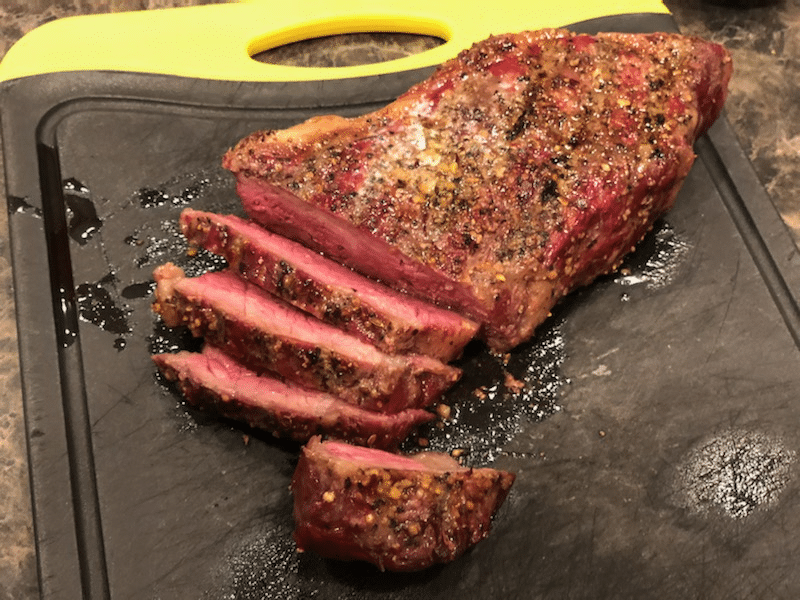 Enjoy this recipe? Consider supporting this website
Buy your bbq pellets via this amazon link and you'll support the site at no additional cost to you.
Traeger Smoked New York Strip Steak
This is a full-proof way to cook an amazing steak. All you need are some cook steaks, your favorite steak seasoning, a temperature probe, and a smoker.